Recipe
By: Eat Well, Live Free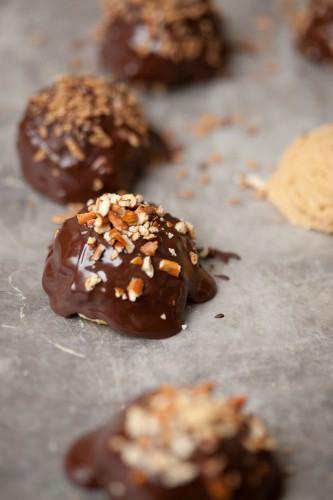 Elena's Peanut Butter Balls
The holidays are upon us and this is the season for sweet treats and yummy desserts! Our friends atEat Well, Live Free created these delicious peanut butter balls that are not only delicious, but are pretty healthy too!
They're full of protein from the unadulterated peanut butter and antioxidants from the dark chocolate casing. Kids will also enjoy assembling these yummy treats, so have them help you in the kitchen and make it a family tradition!
Note: Depending on the consistency of your peanut butter, you may need to place it in the freezer a few times to make these pretty. Other than that, this recipe is super easy.
Peanut Butter Balls
Ingredients:
1 lb of fresh peanut butter, pure crushed peanuts (I made mine by demolishing 1 lb of peanuts in my vitamix, you can also find a market near you that has a peanut butter machine such as the Sacramento Food Co-Op or Raley's in Sacramento.)
6 oz of dark chocolate
1/2 cup crushed pretzels or Uncle Sam cereal
1/2 tsp olive oil
Instructions:
Chill the peanut butter in the refrigerator for at least an hour so that it is about the consistency of cookie dough. Line a cookie sheet with parchment or wax paper. Using a spoon or a cookie scooper, spoon 1 tablespoon of peanut butter and form by hand into a ball and place on the cookie sheet. Place cookie sheet in the freezer for a few minutes until ready for use.
Crush the pretzels or Uncle Sam cereal and place on a plate. Heat the chocolate and olive oil in a double boiler or microwave (in a glass bowl in short increments so that it doesn't burn). Stir frequently. The oil will help the chocolate spread smoothly over the balls. Remove the chocolate from heat and place it at your assembly station with the balls and the plate of pretzel/cereal.
Roll the balls in the pretzel/cereal. Then roll them in the chocolate, using a spoon to ladel more if you need the assist. Place the ball back onto the cookie sheet and sprinkle a little of the pretzel/cereal on top. Refrigerate until ready to eat.
Warning: I have had one consistent complaint to these. People say that they are too big. Personally, I feel good about an entire tablespoon of peanut butter, but feel free to make them smaller.
Recipe and photo courtesy Eat Well, Live Free. Reprinted with permission.
Hello! We hope you made and enjoyed this recipe from our Your Sandwich Can Save the World! Food Literacy Curriculum! Please note that all photos and content are copyright protected. Please do not use our photos without prior written permission. If you wish to republish this recipe, please rewrite the recipe in your own unique words and link back to on Food Literacy Center's website. Thank you!
© 2016 Food Literacy Center. All rights reserved. Do not copy or share without written permission.
Related Links