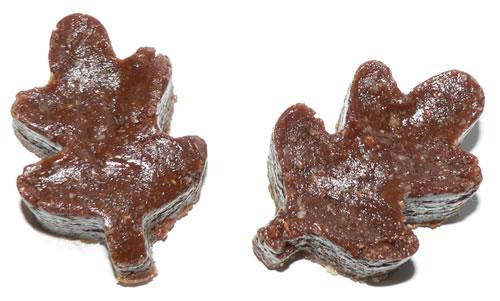 Date Cocoa-Nut Candy
Trick or treat! Chewy and yummy, these homemade candies are sweetened with date sugar and honey and filled with fruit and fiber! Perfect for Halloween and just about any other occasions, these candies are fun and easy to make, especially when you get kids involved as well!
Yield: 24 candies, cut to 1 inch by 1 inch (could be more or less, depending on size of your cookie cutter)
Date Cocoa-Nut Candy
Ingredients:
1 ½ cups Walnuts, processed in a food processor for about 30 seconds
1 ½ cups Dates, pitted
½ cup Oat Bran
½ cup shredded unsweetened Coconut
½ cup Almond Butter
½ cup Cocoa Powder
½ cup Date Sugar
4 Tbs. Honey
½ tsp. Hazelnut Oil
Farmers' Market Ingredients:
Walnuts
dates
almond butter
honey
Supermarket Ingredients:
oat bran
coconut
cocoa powder
date sugar
hazelnut oil
Instructions:
Blend all the ingredients in food processor until well-incorporated into sticky but firm dough. Remove from processor and spread onto a pan to about 1 inch thick. Refrigerate overnight. The next day, you can cut them into squares like snack bars, or use miniature cookie cutters to cut them into fun shapes.
Recipe originally posted in Eating Rules.
Hello! We hope you made and enjoyed this recipe provided by Awake at the Whisk! Please note that all photos and content are copyright protected. Please do not use our photos without prior written permission. If you wish to republish this recipe, please rewrite the recipe in your own unique words and link back to Date Cocoa-Nut Candy on Food Literacy Center's website. Thank you!
Related Links