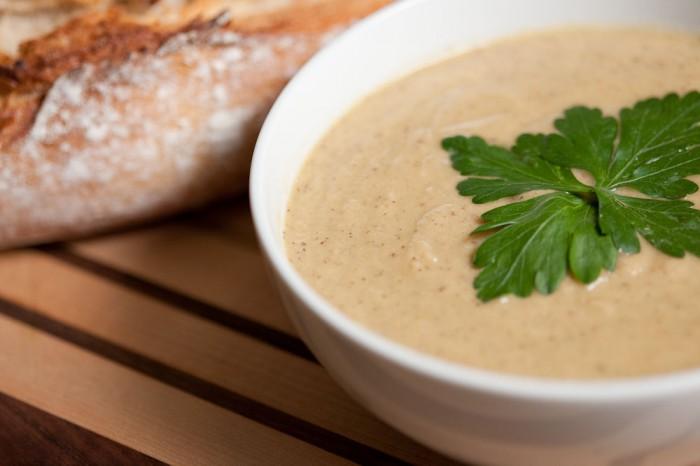 Celery Root and Hazelnut Soup
Nothing beats eating a comforting bowl of hot soup on cold winter nights. Jillena Hernández created this delicious and nutritious recipe using celery root (or celeriac), leeks, and hazelnut. It's hearty, complex, and full of flavor!
Yield: Serves 6
Celery Root and Hazelnut Soup
Ingredients:
2 leeks, washed and sliced thin
2 cloves garlic, minced
1/4 tsp sea salt
1/2 c dry sherry
2 tsp thyme, minced
4 bay leaves
2 celery root, peeled and cubed
8 c low sodium organic vegetable stock
4 oz dried hazelnuts
1 tsp lemon zest
1/2 tsp nutmeg
1/4 tsp ground pepper
2 t white vegetarian miso paste
Finishing salt to taste
Instructions:
In a large heavy-bottomed pot heat the sherry slightly, about 30 seconds. Add the leeks, garlic and sea salt sautéing until the leeks begin to turn light brown.
Add the thyme, bay leaves, celery root, stock, and hazelnuts. Simmer, covered until the celery root is completely cooked and easily pierced by a fork, approximately 40 minutes.
Remove from heat and throw out the bay leaves. Add the zest, nutmeg, pepper and miso. Blend with a hand blender or in batches in a counter top blender until very smooth. Salt to taste.
Serve with a hearty, seeded wheat.
Hello! We hope you made and enjoyed this recipe provided by Jillena Hernández! Please note that all photos and content are copyright protected. Please do not use our photos without prior written permission. If you wish to republish this recipe, please rewrite the recipe in your own unique words and link back to Celery Root and Hazelnut Soup on Food Literacy Center's website. Thank you!​
Related Links