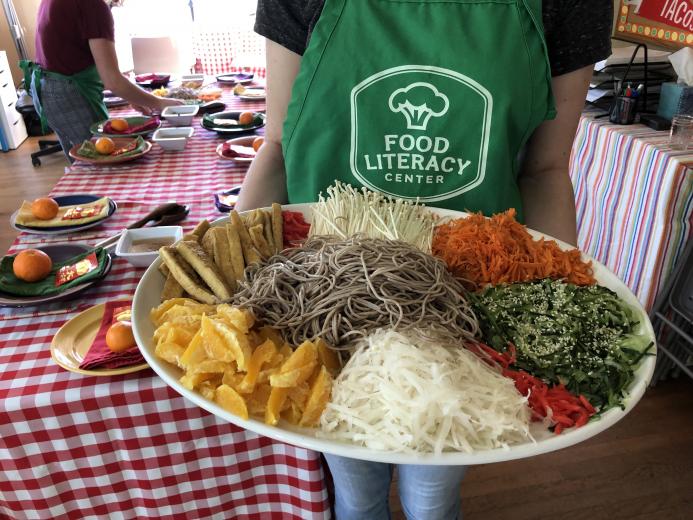 Celebrating Yu Sheng at Food Literacy Center
Singaporean Chinese New Year Salad
When Food Literacy Center started, volunteer Heather Teoh helped Food Literacy Center as our first communications intern. She helped teach school classes, develop recipes, and more. One of Heather's signature recipes and traditions she introduced was a Singaporean dish, Chinese New Year Yu Sheng Salad. It's a celebratory meal that brings good luck to those who eat it.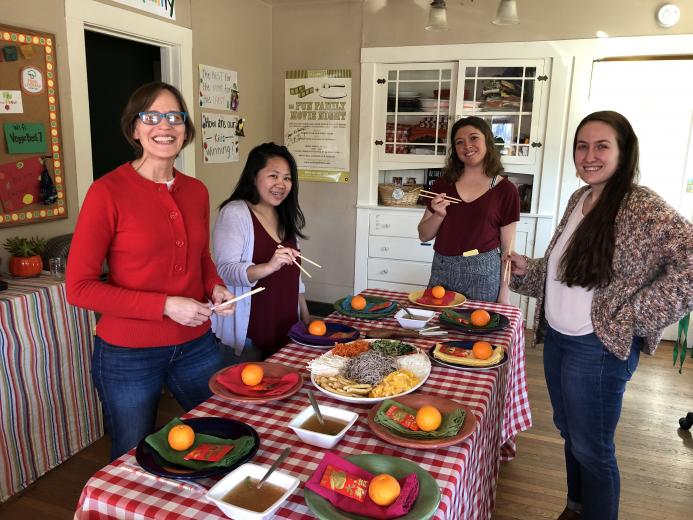 In 2019, Chinese New Year is celebrated on February 5th and rings in the Year of the Pig. In Singapore and Malaysia, friends and families will mark the occasion by tossing together a large plate of Yu Sheng, a salad of fish, fruits and vegetables, to ensure a lucky, prosperous and healthy year for all.
The modern version of Yu Sheng was created by four Singaporean master chefs at a renowned Chinese restaurant. They named it Yu Sheng, with Yu meaning fish or abundance in Mandarin, and Sheng meaning raw, but when enunciated appropriately, it also means life. Together, Yu Sheng symbolizes "abundance of wealth and long life." The tossing action is called lo hei in Cantonese, which means "tossing luck" or "rise again."
Symbolic Ingredients
Each ingredient in the salad represents a certain auspicious symbol.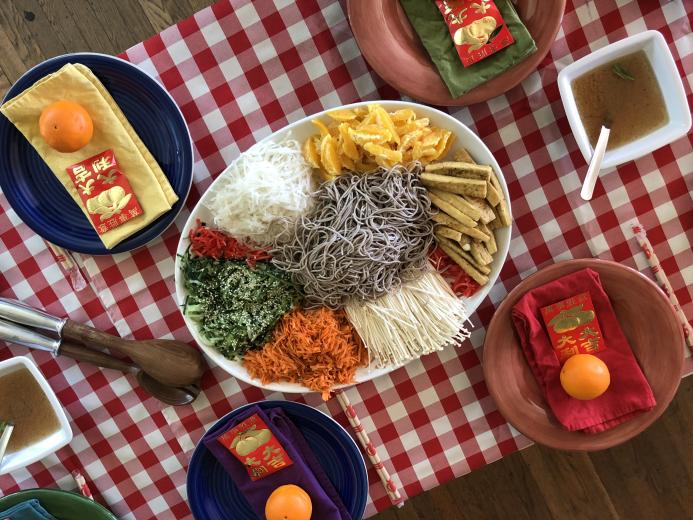 Fish – abundance
Pomelo – luck
Pepper – money
Oil – excess of profits
Carrots – blessings of good luck
Radish – prosperity in business and promotion at work
Peanut crumbs – gold and silver or eternal youth
Sesame seeds – flourishing business
Deep fried flour crisps – gold
Noodles – long life
When you add each ingredient to the plate, you recite greetings of good luck and prosperity. When every ingredient is added to the plate, everyone yells "lo hei" seven times, while tossing all the ingredients together (as high as possible) and eventually toward the center of the plate, to spread the luck around.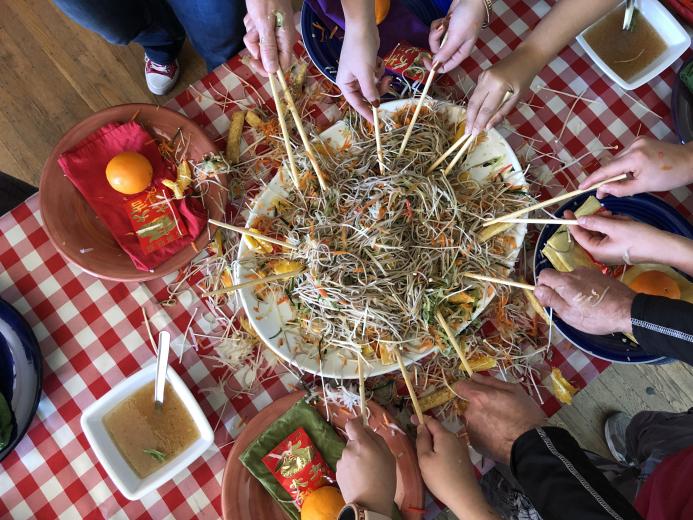 Food Literacy Center staff celebrates Lunar New Year with Yu Sheng not only to bring good luck personally and professionally, but to share a meal and enjoy time together. Check out our own recipe for Yu Sheng - Singaporean Chinese New Year salad.
Lo hei!
Related Links