Recipe
Erin Alderson of Naturally Ella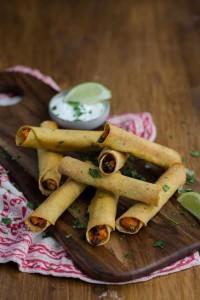 Baked Sweet Potato and Black Bean Taquitos
Yields: 10 taquitos (4 to 5 servings)
Prep time: 20 minutes
Cook time: 10 minutes for sweet potatoes, 25 to 30 minutes for taquitos
Taquitos
1 medium sweet potato, cut into 1/4" cubes (roughly 2 cups)
1/4 cup black beans, drained and rinsed if using canned
1 scallion (green onion) minced (2 tablespoons)
2 tablespoons minced fresh cilantro
1 tablespoon fresh squeezed lime juice
1/2 teaspoon chipotle powder
1/4 teaspoon salt
10 corn tortillas
1 tablespoon olive oil
Yogurt Dip
1/2 cup Greek yogurt
2 tablespoons minced cilantro
1 tablespoon lime juice
Instructions for adults:
Bring a pot of water to a boil. Add sweet potatoes and cook until tender, 10 minutes. Drain and place in a bowl.
Preheat oven to 425˚.
Instructions for kids:
Mash sweet potatoes a few times with a potato masher or fork (there should still be some small chunks of sweet potatoes).
Add the black beans, scallion, cilantro, lime juice, chipotle powder, and salt to the sweet potatoes. Stir until well combined.
Take a few sheets of paper towels (still together) and dampen. Wrap around the stack of corn tortillas and microwave for 30-45 seconds. Tortillas should be warm and roll easily.
Place 3 tablespoons of the sweet potato filling in the half of the tortilla closest to you. Roll and tuck the end over the filling and continue to roll. Place seam side down on a baking tray and continue with remaining tortillas and filling. Brush the rolled taquitos with olive oil before baking.
Instructions for adults:
Bake for 15 minutes, flip the taquitos, and continue to bake for another 10-15 until crispy on the outside.
Instructions for kids:
Mix the Greek yogurt, cilantro, and lime juice together and serve on the side with the taquitos.
Notes
Look for fresh, in the cooler section of your grocery store, tortillas. These tend to roll better. Also the thinner the tortilla, the better!
If desired, add 1/2 cup shredded/crumbled cheese (like cheddar or queso fresco) to the sweet potato mix.
Hello! We hope you made and enjoyed this recipe provided by Naturally Ella! Please note that all photos and content are copyright protected. Please do not use our photos without prior written permission. If you wish to republish this recipe, please rewrite the recipe in your own unique words and link back to Baked Sweet Potato and Black Bean Taquitos on Food Literacy Center's website. Thank you!
Related Links