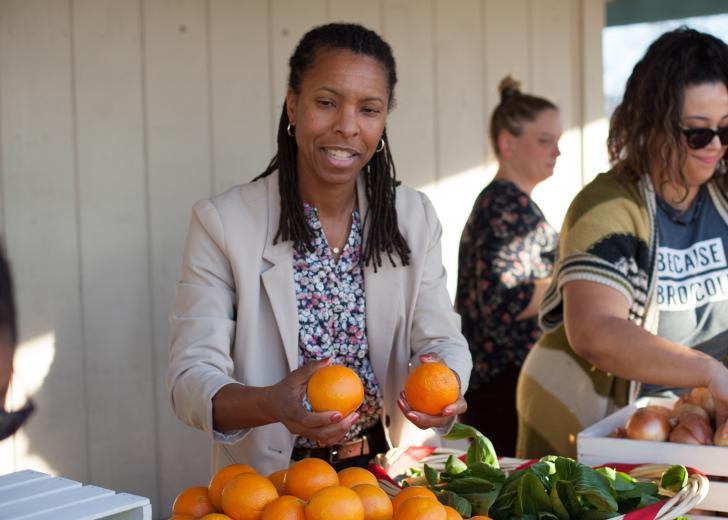 Sarah Modeste
Board Chair
Partner, KMP Strategies
As a Midwest transplant, Sarah was thrilled to discover Sacramento's year-round farmer's markets, roadside strawberry stands and restaurants with rotating menus based on produce availability. Long before Sacramento declared itself (and rightfully so!) the "Farm to Fork Capital," Sarah had already started referring to the seasons by her favorite produce - "mandarin season" and "peach season" taking the top spots.
But despite the great bounty the Sacramento region offers residents, and the world, Sarah quickly learned that there was also a great divide. Not everyone had access or the resources to the nourishment local produce provides. Sarah and her husband, Scott, were among the earliest supporters of the Food Literacy Center. They saw the immediate impact of their donations, kids eating veggies and loving them.
Sarah owns KMP Strategies LLC, a full service public affairs firm in Sacramento. She focuses on helping public agencies navigate difficult and impactful projects with a level of technical understanding that she translates to easily understood information for the greater community and those mostly directly impacted. You are just as likely to find Sarah on a construction site in her hard hat and vest as you are to find her in a long-range planning meeting with elected officials from throughout the region.
Sarah knows that food can nutritive, healing and a tie that binds family, friends and communities. And, as a mother, she tries to teach her daughter the same and believes that all children should have access to healthy food.
Sarah attended the University of Tulsa on Division I rowing scholarship. She earned her Bachelor of Arts degrees in Communication-Public Relations and Sociology and was a member of the highly selective Tulsa Undergraduate Research Challenge. She designed and conducted qualitative research on the impact of homelessness on women and children.
Related Links