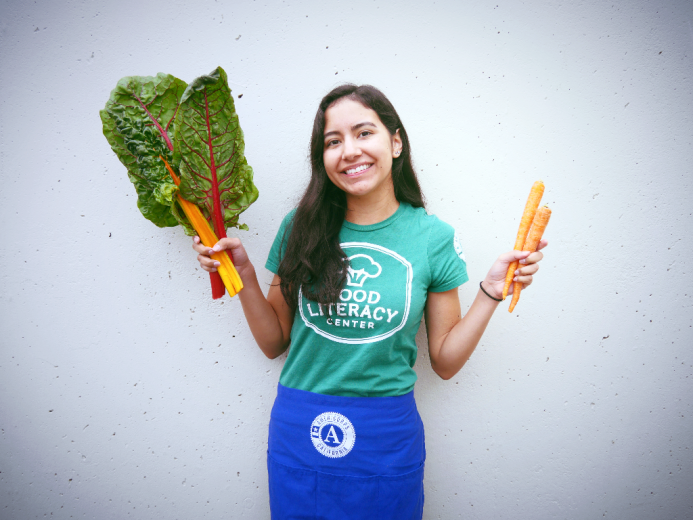 Marissa Reyes
Food Literacy Corps Member
Marissa is an AmeriCorps member serving with Food Literacy Center's second cohort of Food Literacy Corps. She joined the Food Literacy Center team as a Food Literacy Corps member in October of 2017 and will complete her term in August of 2018. Marissa is responsible for teaching food literacy curriculum to low-income students at Ethel Phillips Elementary School, Ethel I. Baker Elementary School, St. Hope PS7 Elementary, and Pacific Elementary School. She also helps out with volunteer data collection and preps volunteer resources for program.
Marissa holds a Bachelor of Science in psychology with an emphasis in psychobiology from Santa Clara University, Silicon Valley.
Why did you choose to do a year of AmeriCorps service?
After finishing my undergraduate studies I felt a longing to give back to the community. A year of Americorps service not only gives me the opportunity to serve but also allows me to actually see the impact that I am making.
Favorite moment in the classroom this year?
My favorite moments in the classroom are when the students state that they do not like what we're about to make but then they end up trying it, loving it, and taking a recipe home to make it again!
What is the most interesting fruit and/or vegetable you've tried this year?
The most interesting fruit that I have tried this year is the prickly pear! They have such a beautiful color and taste awesome!
What do you plan to do with the skills you've gained at Food Literacy Center this year (what's next)?
Food Literacy Center has given me more perspective on social determinants of health and has taught me how to be an effective communicator and leader. I plan to use these skills to help me pursue a career in healthcare!
Related Links