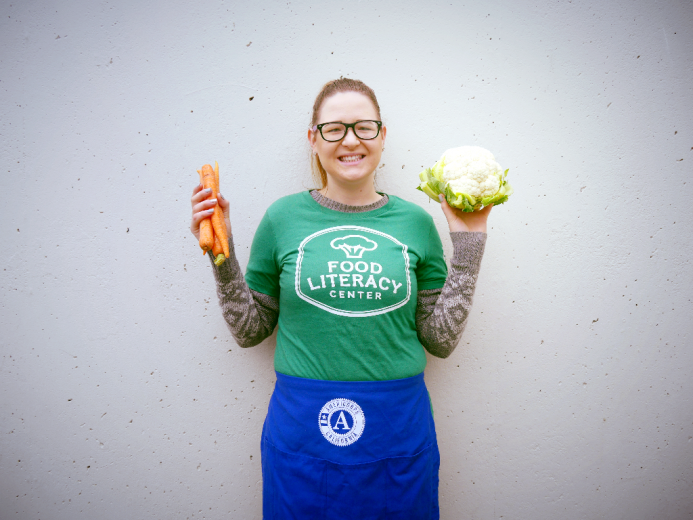 Liliya Solonko
Food Literacy Corps Member
Liliya Solonko is an AmeriCorps member serving with Food Literacy Center's second cohort of Food Literacy Corps. She joined the Food Literacy Center team as a Food Literacy Corps member in September 2017 and will complete her term in August 2018. Liliya Solonko is responsible for teaching food literacy curriculum to low-income students at David Reese Elementary School, Susan B. Anthony Elementary School, Camellia Basic Elementary School, and Leataata Floyd Elementary School. She is also in charge of school program preparation which includes learning and teaching lessons, entering data, and managing a classroom. Liliya has knowledge about the Produce of the Day and passes that on to the students while encouraging them to be Food Adventurers.
Liliya Solonko is working on her bachelor's degree in nutrition and food science from California State University, Sacramento and is expected to graduate in December 2017.
Why did you choose to do a year of AmeriCorps service?
I chose AmeriCorps because I wanted to get some experience in the work field before I get a real job. Also for the benefits of being in AmeriCorps such as the $5,000 scholarship for school. I plan to use it on some of my school loans.
Favorite moment in the classroom this year?
My favorite moment in class is the end, after the lesson when I ask the kids what they learned and they respond with very intriguing answers like, "Did you put something magical in this salad? Why is it so good? I hated salad!" and "I don't like salad but I LOVE salad!"
What is the most interesting fruit and/or vegetable you've tried this year?
The most interesting fruit I have tried this year is prickly pear. I didn't know that cactus fruit was edible and also delicious.
What do you plan to do with the skills you've gained at Food Literacy Center this year (what's next)?
I will use the skills I gain from this year at my next job working as a nutritionist, either at a hospital, weight loss facility, or holistic clinic.
Related Links