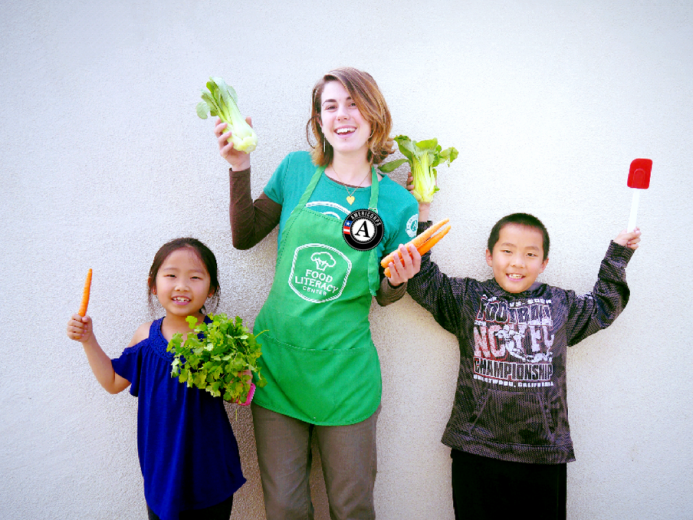 Lauren Taylor
Food Literacy Corps Member
Lauren Taylor is an AmeriCorps member serving with Food Literacy Center's second cohort of Food Literacy Corps. She joined the Food Literacy Center team as a Food Literacy Corps member in February 2018 and will complete her term in August of 2018. Katie is responsible for teaching food literacy curriculum to low-income students at David Reese Elementary, Leataata Elementary School, Camilia Elementary School, and Peter Burnett Elementary School.
Lauren holds a Bachelor of Arts focused in sustainable agriculture and ecological landscape design from The Evergreen State College in Olympia, Washington.
Why did you choose to do a year of AmeriCorps service?
I wanted to widen my reach in the food system and go beyond the field. My experience with food has primarily been a grower on organic farms in the Pacific Northwest. I was ready to give back to the community and help educate people so that they could make deeper connections with their food, where it comes from and how it affects their bodies.
Favorite moment in the classroom this year?
I loved watching kids who were so skeptical about trying the produce of the day and ended up loving it and asking for more!
What is the most interesting fruit and/or vegetable you've tried this year?
Raw rhubarb!
What do you plan to do with the skills you've gained at Food Literacy Center this year (what's next)?
In addition to my passion for plants, food, and people, I'm a big advocate for outdoor adventures, nature, and our public lands. I'm hoping to work with or develop a non-profit that focuses on healthy lifestyles and is accessible to all youth. My dream is to combine outdoor and food education in a way that empowers young women from all different backgrounds.
Related Links