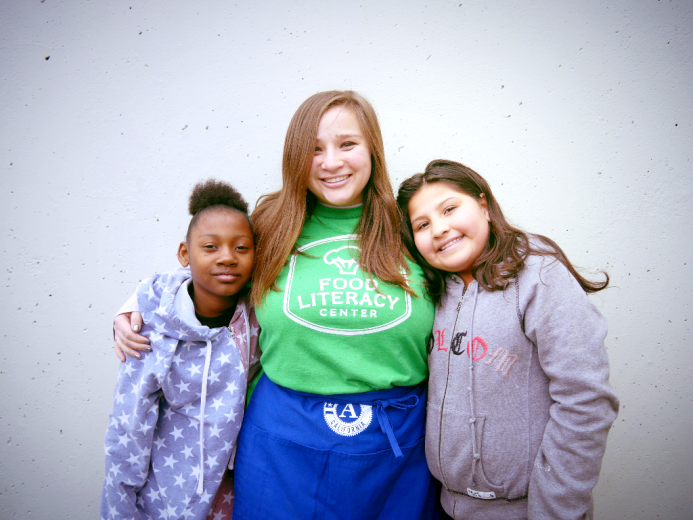 Kathryn Zaragoza-Smith
Food Literacy Corps Member
Kathryn Zaragoza-Smith is an AmeriCorps member serving with Food Literacy Center's second cohort of Food Literacy Corps. She joined the Food Literacy Center team as a Food Literacy Corps member in September 2017. Kathryn will complete her term in August 2018. Kathryn is responsible for teaching food literacy curriculum to low-income students at David Reese Elementary School, Ethel I. Baker Elementary School, Bret Harte Elementary School, and Leataata Floyd Elementary School.
Kathryn holds a bachelor's degree in humanities and communications with an emphasis in women's studies from California State University, Monterey Bay.
Why did you choose to do a year of AmeriCorps service?
I graduated from college this past May and knew I needed a year between college and Graduate School to ground myself in my community and gain a better understanding of the inner workings of a nonprofit. I wanted to spend this year doing something I was passionate about and when I found Food Literacy Center I knew I'd found the perfect fit.
Favorite moment in the classroom this year?
At Bret Harte Elementary School the youngest group of kids loves the Food Literacy Center Veggie Cheer so much that they've requested we do it to start and end program every Wednesday.
What is the most interesting fruit and/or vegetable you've tried this year?
Prickly Pear!
What do you plan to do with the skills you've gained at Food Literacy Center this year (what's next)?
I am currently in the process of applying for graduate school in feminist/gender studies. I hope to use what I've learned this year to apply to the gendered disparities in food access and how access to healthy food may have a positive ripple effect on the lives of underserved communities.
Related Links