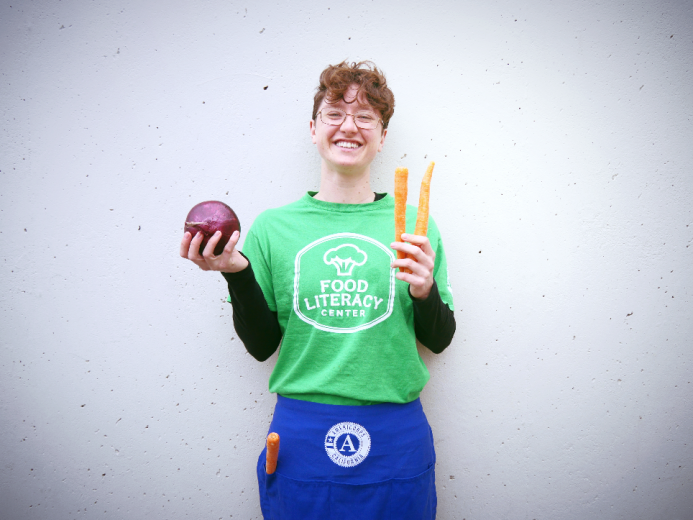 Darrow Pierce
Food Literacy Corps Member
Darrow Pierce is an AmeriCorps member serving with Food Literacy Center's second cohort of Food Literacy Corps. They joined the Food Literacy Corps in September 2017 and will complete their term in August 2018. Darrow is responsible for teaching food literacy curriculum to over 100 kids across 4 low-income elementary schools, volunteer coordination, recruitment, retention, and recognition.
Darrow holds a Bachelor of Arts from Evergreen State College in Olympia, WA.
Why did you choose to do a year of AmeriCorps service?
I had just moved to Sacramento and was trying to find a way to get to know the community better. Volunteer service has always been a big part of my life so when I learned about the Americorps position at Food Literacy Center, I jumped at the opportunity!
Favorite moment in the classroom this year?
So far, my favorite moments have been when I got an entire cafeteria to chant, "Beets! Beets!" and when my kids actually sang about the food we were making when they were really excited!
What is the most interesting fruit and/or vegetable you've tried this year?
I'd never had nopales before and I prefer it in things rather than just by itself. We got to try nopales salsa our first week and it was INCREDIBLE!
What do you plan to do with the skills you've gained at Food Literacy Center this year (what's next)?
Social justice and volunteer work are inextricable parts of my life, and my experiences with Food Literacy Center can only bolster my ability to do meaningful, thoughtful work within the Sacramento community.
Related Links