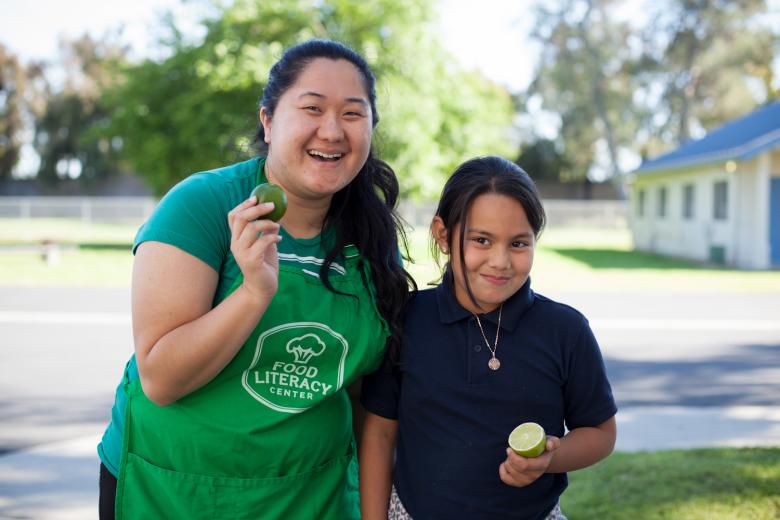 Cindy Yang
Food Literacy Corps Member
Cindy Yang is an AmeriCorps member serving with Food Literacy Center's first cohort of Food Literacy Corps. She joined the Food Literacy Corps in September 2016 and will complete her term in July 2017. Cindy is responsible for teaching food literacy curriculum at 4 low-income elementary schools, facilitating library programs in the community, and coordinating Vegetable of the Month tastings in partnership with the Sacramento City Unified School District.
Cindy holds a Bachelor's degree in Food and Nutrition: Dietetics from Cal Poly Pomona.
Why did you choose to do a year of AmeriCorps service?
I choose to do a year of AmeriCorps service because I wanted to work with Food Literacy Center in making an impact in the community by empowering students with nutritional knowledge and skills.
Favorite moment in the classroom this year?
My Favorite moment in the classroom is seeing the students face lite up when they try a new food that they were hesitant to try at first.
What's the most interesting fruit or vegetable you've tried this year?
Most interesting fruit I've tried this year is Kumquat. Most interesting veggie I've tried this year is Rainbow Chard.
What do you plan to do with the skills you've gained at Food Literacy Center this year (what's next)?
The skill I have grown the most in while at Food Literacy Center is management. This is an essential skill I would take with me in my future endeavors to become a Registered Dietitian.
Related Links