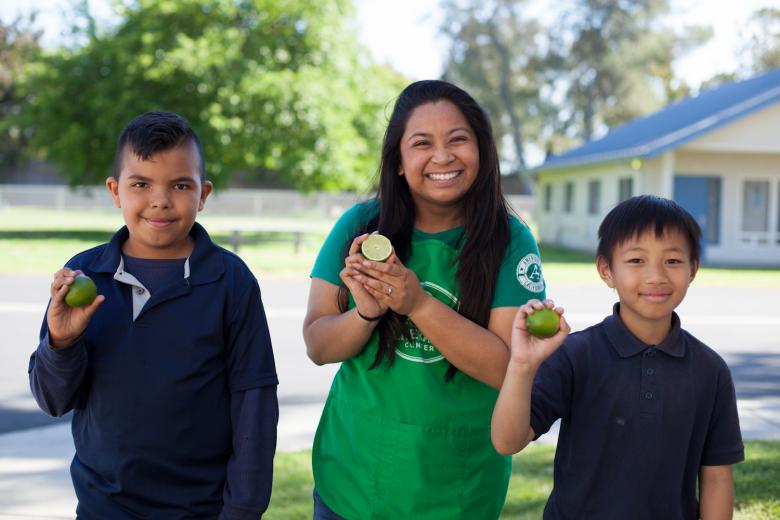 Angelique Aspacio
Food Literacy Corps Member
Angelique Aspacio is an AmeriCorps member serving with Food Literacy Center's first cohort of Food Literacy Corps. She joined the Food Literacy Center team as a Food Literacy Corps member in September 2016. She will complete her term in July 2017. Angelique is responsible for teaching food literacy curriculum at 4 low-income elementary schools.
Angelique holds a Bachelor's degree in Psychology from UC Santa Cruz.
Why did you choose to do a year of AmeriCorps service?
Service has been a part of my life since before I was even born. I've always said that if I could live off of volunteering then I would do it and AmeriCorps provided that opportunity for me.
Favorite moment in the classroom this year?
"I ate so much broccoli, it made me go to the bathroom! But that's okay because it was sooooo good!" -Isaac, 3rd grade
Another moment that I really loved was when a parent came to pick her child up and her child was so excited to share her portion of the cactus salsa that we made in class that day with her mom. Her mom liked it so much that she told her daughter and me that they were going to buy ingredients to make it at home!
What is the most interesting fruit and/or vegetable you've tried this year?
Prickly pear! I've never had prickly pear before I started working at Food Literacy Center. And although the goal is to expose the kids to new fruits and veggies, when we had prickly pear as our produce of the day, the kids were teaching me and telling me stories about prickly pear as if they were the teachers! It was really fun to see them so excited about the food we bring into the classroom. And personally, for me, I started seeing prickly pear everywhere–at the farmer's market, on vacation, even in my neighbor's backyard! If you ask my friends and family, they'll tell you I can't stop talking about prickly pears.
What do you plan to do with the skills you've gained at Food Literacy Center this year (what's next)?
I would like to be a part of a non-profit that caters to at risk youth, teaching them social and emotional skills that will help improve their quality of life and increase their chances of doing better in school.
Related Links