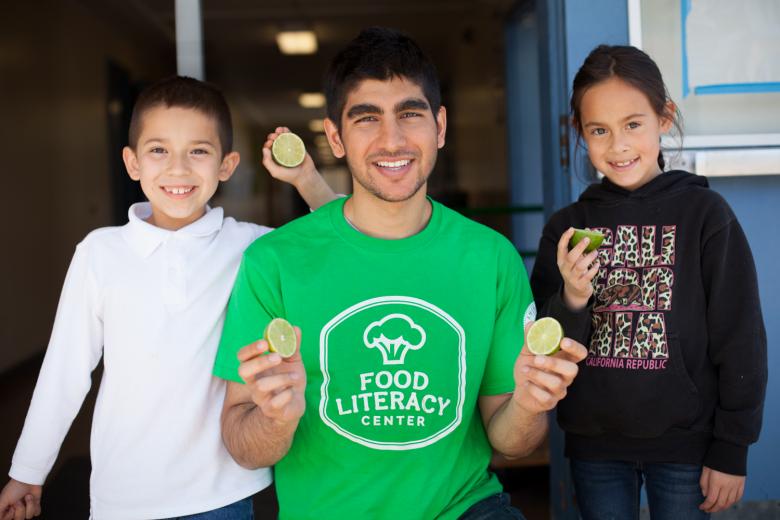 Aman Arora
Food Literacy Corps Member
Aman Arora is an AmeriCorps member serving with Food Literacy Center's first cohort of Food Literacy Corps. He joined the Food Literacy Center team as an intern in September 2015, and continued on as a Food Literacy Corps member in September 2016. Aman will complete his term in July 2017. Aman is responsible for teaching food literacy curriculum at 4 low-income elementary schools, facilitating library programs in the community, and coordinating Vegetable of the Month tastings in partnership with the Sacramento City Unified School District.
Aman holds a Bachelor's degree in Neurobiology, Physiology, and Behavior from UC Davis.
Why did you choose to do a year of AmeriCorps service?
I have volunteered a lot in the Sacramento area and have really grown attached to the people here. After college, I wanted to continue building relationships and helping others in this community.
Favorite moment in the classroom this year?
My favorite moment was when our Produce of the Day was persimmon. All the kids really loved it and that was also my first time trying it. I realized it's amazing that kids half my age are getting exposure to fruits and veggies that haven't even tried yet!
What is the most interesting fruit or vegetable you've tried this year?
Cactus! I had no idea that one could use cactus and make such a tasty salsa.
What do you plan to do with the skills you've gained at Food Literacy Center this year (what's next)?
I plan on attending graduate school then coming back to Sacramento to advocate the well-being of undeserved communities by implementing policies, incentives, and other programs that address health disparities.
Related Links