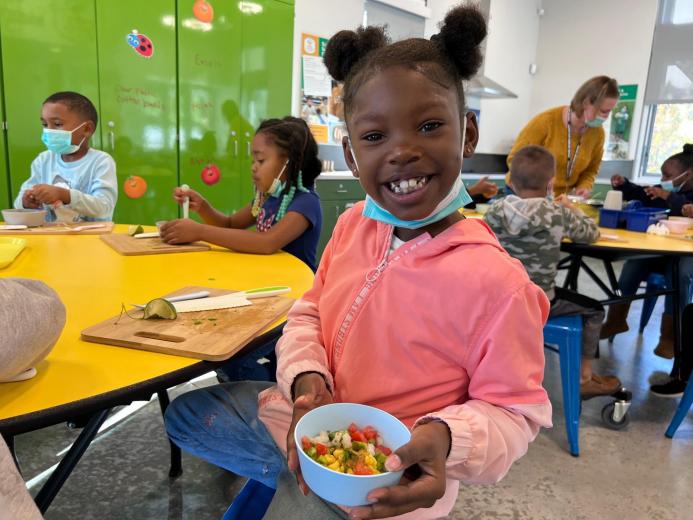 Why Our Program Works
Food Literacy Center is one of the most in-demand afterschool programs in Sacramento City Unified School District. What's the secret to our success? Here's a quick highlight of several standout reasons our program works.
Your donations support this important program, reaching kids at highest risk for diet-related diseases, to address both their nutritional health and mental wellness.
We prevent health problems before they start.
Sacramento kids face a 40% childhood obesity rate. This problem is most prevalent among kids who don't have enough food and adequate nutrition. The problem is also preventable. Our programs introduce fruits and vegetables in a fun, hands-on way, helping kids fall in love with healthy food early to ensure a lifetime of healthy habits.
Our program enhances mental wellness.
80% of students are socially and emotionally less advanced than prior to the COVID-19 pandemic. Our new center allows us to introduce students at Leataata Floyd to cooking & gardening activities, both healthy outlets that help students build resilience for emotional wellness.
We deliver quality programs.
Kids deserve our very best. Feedback from our after-school partners prove that we're giving them our very best. "Students learned cooking skills like using a knife and cutting board, reading recipes, and plating food. Food Literacy Center instructors introduced new fruits and vegetables, expanding their knowledge," says Camellia Basic Elementary School staff. " Food Literacy instructors were well-organized, energetic, and communicated well throughout the entire program. The students at Camellia are hopeful that Food Literacy will return for the next school year."
We go where the kids are.
We don't ask students or parents to travel to us. Many have limited access to adequate transportation. Instead, Food Literacy Center delivers services to kids in their own neighborhoods. We serve neighborhoods with limited access to fresh foods, known as food deserts. These same communities lack safe places to play. Kids in these neighborhoods have little to no exposure to amenities that can improve their physical health and mental wellbeing.
Our program works: we have the evaluation data to prove it.
The COVID-19 pandemic brought additional challenges to Sacramento students. Rates of food and nutrition insecurity tripled in households with kids, while childhood obesity nearly doubled in younger school-aged children, putting them at highest risk for diet-related diseases like childhood obesity. Because of our successful programs, 94% of students fearlessly taste new vegetables through hands-on cooking classes and 70% go home and ask their parents for the foods they taste in class.
We're in two school districts.
As part of our growth, we're now in 5 Title 1 elementary schools in North Sacramento's Robla School District, where we're encouraging a whole new group of Food Adventurers like Henry and Peter to try new foods, learn new skills, and build habits that can last a lifetime. In Sacramento City Unified School District, we'll reach 15 elementary schools.
Our program is scalable, so we're committing to even more schools in 2023.
This year, we've committed to serving more kids, with the goal of reaching more than 2,000 students throughout Sacramento City Unified School District. We'll see each student 10 times, delivering 20,000 individual lessons!
YOU are part of our solution.
With your support, we can continue expanding to meet the needs of our students. It costs only $120 to give the gift of food literacy education to one more student in Sacramento. Thank you for prioritizing kids' health.
Related Links