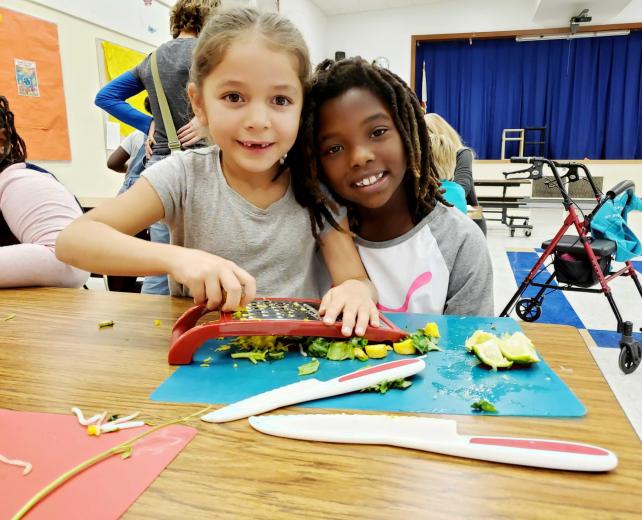 Vision for a Healthier Future
Our vision for a new cooking school and urban farm builds resilience and expands our mission to inspire kids to eat their vegetables.
A New Recipe for Healthy Kids & Healthy Neighborhoods
Like eating vegetables, zip codes predict health. In fact, zip codes can determine whether you have access to fresh fruits and veggies, because not all zip codes have been equally designed. In South Sacramento, where Food Literacy Center serves elementary children, Sacramento's 40% childhood obesity rate is highest. Here, kids carry a higher risk of developing type 2 diabetes and other, preventable, diet-related diseases. USDA views the area as a food desert. It has fewer sidewalks, fewer safe places to play, and 82% of students participate in free/reduced lunch programs, an indicator of low-income households and food and nutrition insecurity.
Through the COVID crisis, Food Literacy Center has continued to inspire children to eat and cook with vegetables, reaching them with take-home STEM recipe kits and virtual cooking classes. We also have a new recipe to improve our kids' health and resilience long-term: we are transforming a neighborhood with a zip code currently linked to poor health.
Take a deep dive with me and read about the solution that will springboard improvements for Sacramento kids' health!
Vision for a Healthier Future
Access to fresh produce is critical to preventing health inequities and setting kids up for a healthier future. Understanding how to cook that produce–and actually having an enthusiastic attitude about eating it–builds skills and habits that will last a lifetime. Food Literacy Center has continued to demonstrate success in this area, thanks to committed volunteers and donors like you. Through the crisis, children who had previously learned in our hands-on classes, have reached out repeatedly asking for our recipes and are showing up week after week for our recipe kits. Our kids are committed veggie-eaters!
What if, in addition to teaching kids to cook, we could transform the neighborhood where they live to make it healthier? What if we created a space to play? What if we transformed the type of education provided to our students so they can learn by doing? What if we could offer this to even more children?
Better Fulfilling Our Mission
We currently reach 12 schools annually with our mission of healthy eating. This work is about to expand. In 2019, we broke ground on a 2.5-acre project in partnership with Sacramento City Unified School District, the City of Sacramento, and The Mill at Broadway. It's called Floyd Farms.
Floyd Farms, set to open this fall, will be operated by Food Literacy Center. The site will feature a 4,500 square foot cooking school being built and paid for by SCUSD, where we will deliver school day cooking classes to Leataata Floyd Elementary students. The space will also invite students and community members to play and learn through field trips and community classes. There will be walking paths, garden beds, growing food, and even community gardens run by the city's Parks and Recreation Department.
This multi-use space offers a unique opportunity to remove barriers to health for the children we serve. First, it creates open space in an urban neighborhood where the average annual household income is $8,000. Studies show that access to green space is directly linked to human health–improved focus, creativity, academic performance, mental health, reduction of anxiety, and more. Children who spend time in nature benefit from improved brain function–even more than adults. Like healthy eating, the exposure kids have at a young age matters.
Building Resilience
The new facility will improve resilience, which is the ability to bounce back after a difficult experience. For students, having the space to play, eat well, and be in nature will heal. Increased cold and dry food storage, a commercial kitchen, and land to grow food will also build resilience against food insecurity for the community we serve.
Investing in Kids' Health
This project transforms not only a neighborhood, but the entire school district. The facility is owned by SCUSD, and allows Food Literacy Center to reach more students in afterschool programs across the district. It allows us to continue our existing, successful cooking and nutrition programs, while adding gardens and space for active play in a once-vacant lot. By building this cooking school, the district is demonstrating its commitment to the health of its students. This is a long-term investment in student health supported by multi-year funding commitments to Food Literacy Center from community businesses and donors like you.
What if children in South Sacramento could reach the same wellness potential as kids in healthier zip codes? Floyd Farms brings us closer to realizing that future.
Join us! Invest in our children. Your commitment today ensures a healthier future for all Sacramento kids!
In health,

Amber Stott
Founding Executive Director & Chief Food Genius
Food Literacy Center
Make a donation today.
Food Literacy Center is a 501(c)(3) nonprofit organization. Your gift will be 100% tax deductible and support existing and expanded programs for our students.
Related Links