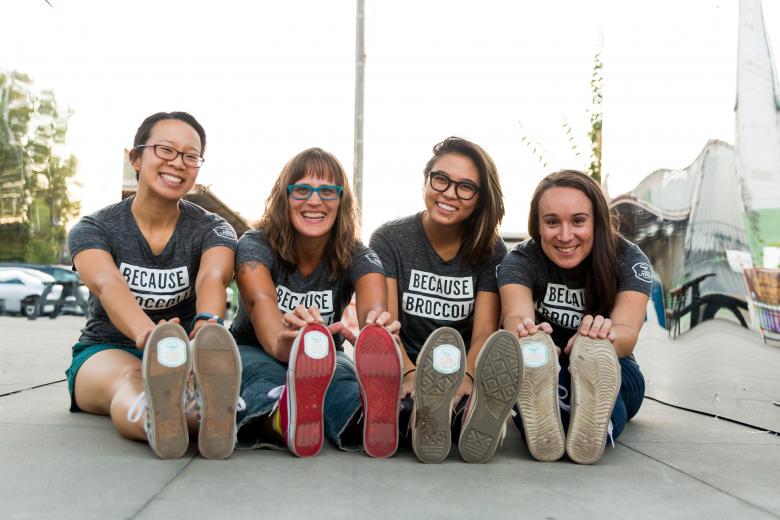 Temporary Position Posting: Administrative Assistant & Bookkeeper
Food Literacy Center came to life in July 2011 to fill a critical gap: helping individuals improve their knowledge, attitude, and behavior towards real food. We teach food literacy education to 800 low-income K-6th graders weekly, teaching them to cook, about nutrition and where their food comes from. We work in after-school programs and throughout the community to accomplish this work.
Our mission is to inspire kids to eat their vegetables. The nonprofit's growing team, combines their creative ideas, expertise, and energy around food, health, and social justice to improve the community.
Teaching children with our curriculum Your Sandwich Can Save the World! is our primary objective. We help kids develop healthy food habits while they are young, creating healthy lifestyles that will last a lifetime.
Our fund development goal for 2016 is $417,000. We have 100% board and staff giving.
About the Position
Food Literacy Center is a largely volunteer-run agency in a period of high growth and expansion throughout the Sacramento region. We're looking for a dynamic change-maker ready to roll up their sleeves, throw on a vegetable costume, and inspire community members to rally around our cause. The Administrative Assistant & Bookkeeper will oversee our day-to-day needs that keep the nonprofit—and programs for our kids—running smoothly. This temporary position will support a wide variety of efforts for the agency.
Core Competencies
Good judgement: The candidate knows what decisions to make on their own, and which ones to bring to team leadership. They understand what the scope of our program is and what requests cause "mission creep." They learn our goals and help stay on course to achieve them.
Interpersonal skills: The candidate has excellent communication skills, both written and verbal, and can engage with the community in a positive way, building lasting relationships. The candidate is a positive leader and can inspire volunteers to work towards our mission with our team.
Team attitude: The candidate doesn't watch the clock and is always ready to push our programs to the next level, pitch in when the team needs help, and recruit volunteers to fill in.
Results-Focused: The candidate knows how to recruit new volunteers targeted for specific projects consistently.
Flexible: The candidate "goes with the flow" and can change track regularly according to the needs of the day.
Fun: The candidate is friendly, outgoing, and has a sense of good humor. The candidate never forgets that the objective is to make learning about food FUN!
Attention to Detail: The candidate lives up to the high standard the community expects from our nonprofit, showing attention to detail. Typos annoy this candidate and a polished product makes them feel proud.
Mission-Driven & Genuine: The candidate understands that this is a start-up, grassroots nonprofit and is willing to go the extra mile to meet the needs of the mission, always with an eye on the reason we're here: to teach food literacy to kids.
Key Responsibilities
Manage agency calendars
Assist with legal and government required paperwork.
Data entry.
Bookkeeping.
Assist with grant reporting and tracking.
Oversee volunteers to enter program evaluation data.
Write content for various communications.
Answer basic community questions and requests.
Represent the nonprofit at fairs and community events.
Meeting minutes, answering phones, meeting set-up, etc.
Coordinating mailings and print quotes.
Coordinating logistics for events, including event permits, donated items, etc.
Coordinating program logistics, including kitchen clean up, packing supplies, etc.
Coordinating veggie costumes and other vegetable duties as assigned.
Qualifications
Minimum 1-3 years' experience in administrative support in nonprofit, community service or related field.
Experience in detailed bookkeeping with QuickBooks.
Experience with detailed spreadsheets and organization.
Experience living/working in the Sacramento region of California and history of local relationships.
Ability to obtain Food Literacy Genius certification.
Bachelor's degree.
Basic cooking skills. (Home cooking is OK!)
Understanding or familiarity with local food, food systems and nutrition.
Passion for our mission.
Candidate must pass a Department of Justice background check and have a negative TB test.
This position requires:
Some nights and weekends. A flexible schedule is required.
Ability to lift 40 lbs.
Reliable transportation and California drivers' license.
Vegetable costume as occasional work attire.
All employees must successfully complete Food Literacy Academy certification.
The position pays $12-14/hour DOE and is a non-exempt, temporary position ending December 31, 2016. We offer a unique, healthy work culture that celebrates teamwork and vegetable eating. We encourage applicants of a diverse background to apply.
Apply Now
Please submit a resume, salary history, and thoughtful cover letter outlining the reasons you should be our Administrative Assistant & Bookkeeper to HR@foodliteracycenter.org, subject: Administrative Assistant & Bookkeeper Application. Position open until filled.
Related Links