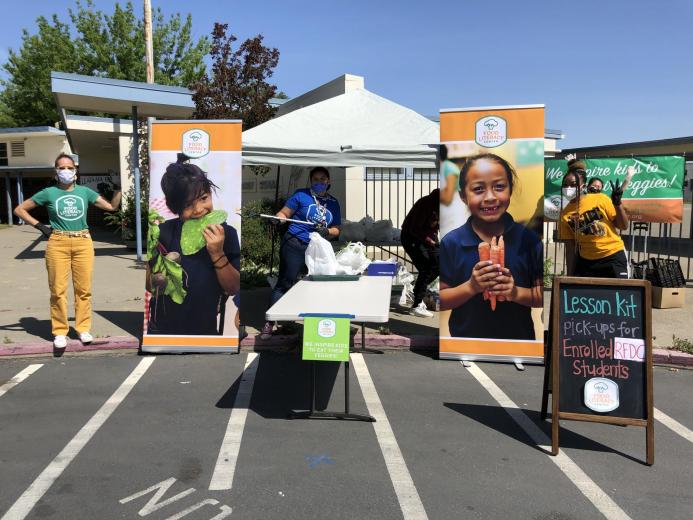 Reflecting on Our Food Movement
10 Years of Collaboration
Nearly a decade ago, a small movement started in Sacramento. People with a fire in their bellies started joining forces to fix a broken food system.
I was one among a small but mighty group of people ranging from nonprofit founders to farmers. Back then, Food Literacy Center was just a twinkle of an idea. Our city wasn't yet America's Farm-to-Fork Capital. There was no Sacramento Food Policy Council. Our school district didn't have policies to fight junk food in schools. The food bank was smaller. There was no arena committed to sourcing local ingredients, and only some restaurants were committed to the idea. Back then, there were fewer farms. There were fewer voices calling for healthy food and justice for the food insecure. These programs didn't exist. Very few people had heard the term "food system," or even knew we had one.
Today, a deadly virus is threatening us. While some parts of the country can't find meat or flour in their grocery stores, Sacramentans can buy a 25 lb bag of flour for $15 from a Northern California mill using grain from local farmers. Food Literacy Center is less than a year away from moving into a cooking school on an elementary campus, and in this crisis, even as food and nutrition insecurity increases, our students are receiving fresh vegetables from local farms to take home to cook soup for their families. What a difference those years of hard work have made! What a difference YOUR investments in this movement have made!
For a decade, because our community came together to create a farm-to-fork, secure food system, our community is making it through, together. Times are hard, but people are not simply being fed: folks without transportation are being identified on a family-by-family basis and food is being delivered. Our food bank is meeting demand with the help of its multiple partners. Our school districts are keeping children fed. Restaurants are cooking meals for home-bound seniors.
I am grateful for the partners I have worked alongside to build a Sacramento I am proud of. The food system we have worked so many hard years to build is being tested–and it's proving resilient.
But the challenge hasn't ended. It's only just begun. How we proceed in the days and months ahead will demonstrate whether the partnerships, the systems, and the relationships we've built will withstand an ongoing crisis. Will we continue to prioritize health, equity, and the needs of others above our own? I will. Food Literacy Center will.
Your donations today, tomorrow, and three months from now will keep these priorities firm in our community. Please donate from your heart to continue building a food system for ALL. We're in this together!
In health,
Amber Stott
CEO & Chief Food Genius
Related Links