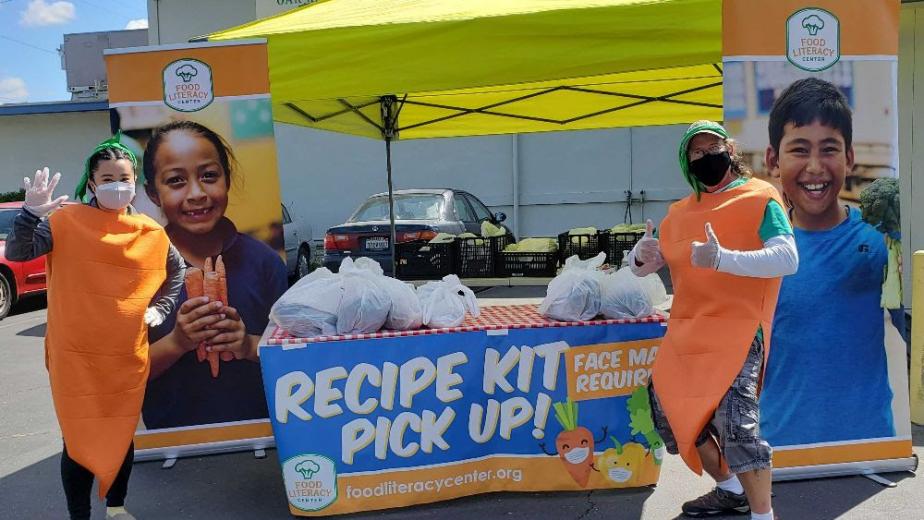 Race, Equity, Inclusion, and Our Kids
Letter from Founding Executive Director, Amber Stott
Our children are being asked to endure too much trauma. It's our responsibility to do something about it. At Food Literacy Center, 96% of children we serve are Brown and Black. 10% are Asian American and Pacific Islander.
In response to rising incidents of racism and the murder of Asian American women in Atlanta last week, it is increasingly important to educate our community about the intersections of health and nutrition with race, equity, social justice, women's rights, and so much more.
I know these issues matter to you, too.
We cannot eliminate hunger without addressing the many other social issues closely linked to it.
In recent years, and especially during the pandemic, incidents of racism have risen alongside rising rates of food and nutrition insecurity. The lack of healthy food is largely experienced by the same people affected by racism: Black and Brown families.
This injustice needs to be called out and better understood. We cannot solve these problems with a basket of broccoli alone.
The basket of broccoli is important. It sends a message to those who receive it that they matter to us. Their health matters. Their lives matter.
That broccoli also needs to be delivered through a lens that's culturally appropriate and takes health equity and inclusion into account. At Food Literacy Center, it has always been our priority to do just that.
Food Literacy Center's work is more complicated than recipes. I want to share some examples of how our work goes deeper, because I hope others will consider ways they, too, can go deeper to create solutions with us.
Together, we need to end this painful cycle of inequity in Black and Brown neighborhoods in our community.
Ways Food Literacy Center Addresses Race, Equity, & Inclusion:
Inclusion
We speak in many languages. Many of our diverse staff and volunteers are multilingual. Our curriculum includes vocabulary for words in other languages. Our students get excited when their language is celebrated. They feel included.
We talk about race and social justice at work. It drives our decisions, and we make them together as a team of diverse voices and perspectives.
We work in schools that are predominantly Black & Brown.
We intentionally create an inclusive and safe space to talk about issues of race, equity, and inclusion.
We listen.
We train ourselves on issues of race, equity, and inclusion. We dedicate staff time to make space to attend trainings. We prioritize this. Some of our board have attended with staff.
We show up with joy. We help our students heal from trauma through the joy of food by providing a welcoming environment to help them build resilience.
Race
We design culturally appropriate recipes. We show our students their race and culture are seen in the foods we make together, like noodle soup, tostadas, spring rolls, and more.
We translated all our curriculum recipes into Spanish & Hmong. We recognize the rich heritage and linguistic traditions of our families and students. We want them to be able to cook with their families, who speak these languages at home.
We reflect the cultures of our students. Many of our staff are bilingual and can speak to our students in multiple languages, allowing them to connect with students at a deeper level. The celebration of their race and cultures matters.
We invite kids to talk about their cultures in lesson one of our curriculum. They share with one another through stories, food, etc.
Equity
We provide our services for free to Title 1 schools, where the majority of students are Black and Brown. This builds equity, because our students' families cannot often afford to pay for cooking classes for their children. They also have higher rates of diet-related diseases and live in neighborhoods with less access to healthy food. We focus our programs where these services are not readily available and we make them free.
We provide printed curriculum, because many of our students lack internet access at home.
We deliver food directly to homes one day a week to families without transportation.
We remove barriers like those listed above, aiming to make our program more accessible and equitable for those we serve.
We are building our new cooking school at Leataata Floyd Elementary School. Our hands-on education is a better way to learn subjects like math and science, subjects where minority students are underrepresented. For example, black students comprise only 6.2% of science and engineering graduates in the United States.
We remain committed to creating a safe space for the children we serve. That includes continuing to listen, learn, and do more as we better understand the needs around this critical work. Please join us! Together, we can stop hate against the Black and Brown children and families we serve.
In solidarity,

Amber Stott
Founding Executive Director & Chief Food Genius
Food Literacy Center
Related Links