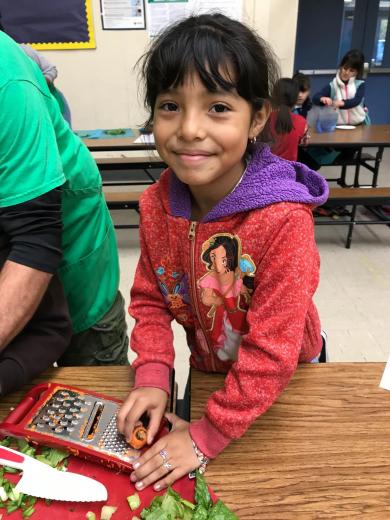 Hap-pea Holidays – Viri's Story
By Amber Stott, Chief Food Genius
I stopped by our food literacy class last week to ask the students what they think of our program. I can't wait to share Viri's story with you! It will fill you with holiday cheer.
Viri is in second grade. Her parents operate a taco truck in South Sacramento, and they try to teach Viri to eat healthy. Her mom is glad that Viri is hearing the same messages about healthy eating once a week in the free cooking and nutrition class offered at her school through Food Literacy Center.
Donors like YOU fund this important program. We're grateful, and so are Viri's parents!
"Mom tells me don't eat so much sugar, because if you have too much you can't go to bed," Viri explains. Viri likes coming to food literacy cooking classes at her school because they don't use much sugar. Viri has developed a positive attitude towards healthy food.
"I eat more veggies at school than at my house," Viri says. Her family likes to eat onions, but those scare her. She asked her brother what it's like eating onions: "Doesn't it hurt?"
Because her food literacy teacher makes vegetables so fun, Viri is more open to trying new foods. (But not onions.)
One of Viri's favorite recipes from food literacy class is a broccoli potato taco. When Viri learned that recipe, she took it home and made it five days in a row with her family. "It was so good!" she exclaims.
Viri knows she should eat healthy, but it can be hard for little kids like her to be brave.
"If I taste this it will be good for my body," Viri tells herself. "But sometimes I'm not ready."
At Food Literacy Center, we know that it can take 10-15 tastes of a food before kids discover that they like it. So, we introduce a wide variety of fruits and vegetables again and again until kids fall in love.
"When I eat it, it feels fresh and it feels good," Viri describes. "First it gets scary and then it gets fun!"
May the holidays be filled with fun and vegetables for you and yours!
Hap-pea Holidays,
Amber Stott
CEO & Chief Food Genius
You can fund food literacy education for a child like Viri. It costs just $186 per child. Make an end-of-year gift today.
We are grapefruit grateful to our sponsor:

Related Links