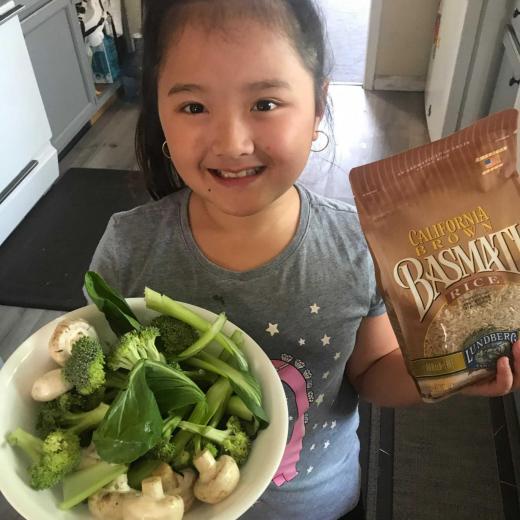 Give Our Kids a Healthier Future
Become a sustaining monthly donor today.
Our community is in a crisis. Rates of food and nutrition insecurity are rising. At Food Literacy Center, we combine immediate food assistance with resilience skill-building, and we haven't let the crisis stop us. We're distributing Veggie STEM Boxes that include healthy recipe ingredients for 4 that students can cook at home with our STEM-based curriculum.
We serve with the purpose of building a more resilient community. We engage the students we serve, allowing their needs to determine our strategies. We ensure that food for those facing food insecurity is healthy, quality, and culturally appropriate.
You make our crisis response possible when you donate. Your gift of $25/month helps us sustain this work through the crisis and beyond.
"I like eating healthy food. You know it's healthy because it has juice inside and fiber." – 1st grader, Leataata Floyd Elementary
Adapting to Best Serve Our Kids
Within 3 days of schools closing, we adapted our weekly curriculum to be available for free via online video classes with downloadable lesson plans and recipes. Our STEM-based curriculum teaches students cooking and nutrition with subjects like math and science with activities like measuring, following a recipe, how fiber and sugar work in your body, and more.
Yet, 30% of our kids do not have internet at home. We're solving this problem by bringing our printed curriculum–plus Veggie STEM Boxes–directly to them during school lunch distribution.
Be part of our creative solution. Please donate $25/month to sustain us through this crisis and beyond.
"Carrots are called carrots, because they care about you!" - 2nd grader, Parkway Elementary
Building Resilience through Joy
We are navigating difficult times. Food Literacy Center entered this crisis with a toolkit to help our children build resilience, which is the ability to cope with hard times. Our program was designed to respond to the emotional needs of our students. We show up with joy–even in hard times. By providing a brief, bright experience in their day, we model positive coping.
Our Veggie STEM Boxes offer a bit of joy to our kids. As we distribute them, our students like Samuel wave enthusiastically from their cars as they see us waiting for them outside their school. They are excited to see us again–and we're so happy to see them!
Students like Samuel know they can count on us. $25/month helps us count on you during this crisis and beyond.
In health,
Amber Stott
CEO & Chief Food Genius
Food Literacy Center
View our printable Holiday Ask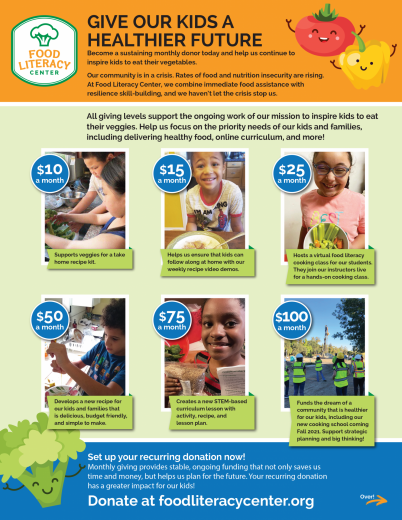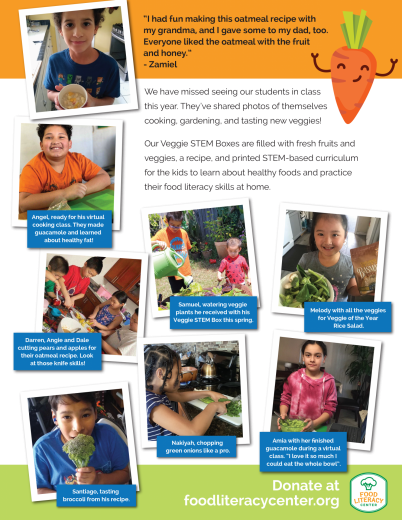 Related Links