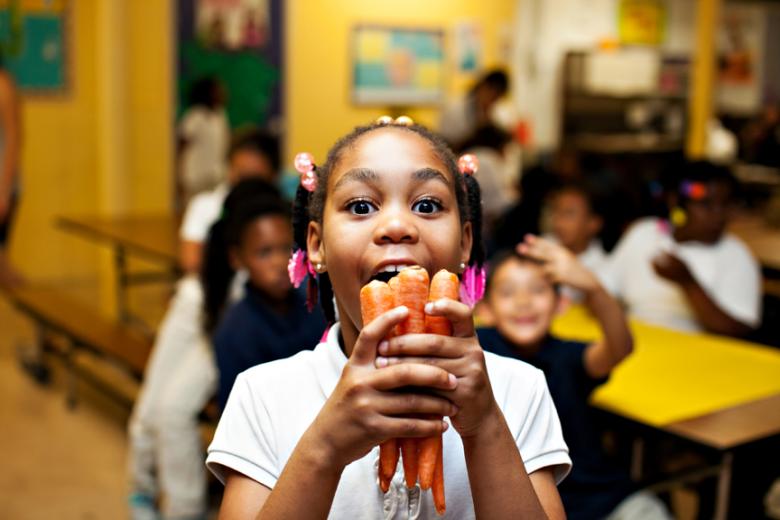 Fund-a-School Today!
Important change is coming to Food Literacy Center. We need you to be part of it!
In the short four years that we've existed, we have seen children begin to love eating fruits and veggies. "My favorite part of class is tasting different foods," one third grader tells us.
We are now doing this work in seven schools! We're reaching 700 kids—every week!
We aren't just giving kids a bite of broccoli once and claiming to have created a revolution. We're sticking around to make sure those bites of broccoli turn into lifelong habits.
We can't afford to cut this education short. Today's children are expected to have a shorter lifespan than their parents due to childhood obesity and other, preventable, diet-related diseases.
We can do better for our kids!
In our pilot programs, we entered schools for 13 weeks a year. Today, we are expanding within these schools to reach kids for nearly every week of their school year, or 28 weeks.
This expansion will more than double our cost per school, but our kids' health is worth it!
Why? Studies show that in three months, students' mindset shifts positively towards healthy foods. But what if we stick around longer? We don't want to simply change attitudes. We want to change long-term behavior.
When we double our efforts, we begin to see behavior shifts that have lasting impacts into a child's adulthood. Instead of getting one bite of broccoli today, we're creating committed broccoli enthusiasts of the future!
So, we're going deep. And we need your help!
Will you please fund one student to receive 28 weeks of food literacy programming? That's just $120, or $10/month! Please donate today!
In these extra weeks of food literacy class, kids are learning a lot! They're working hands-on to cook healthy recipes. They're tasting our Produce of the Day, a new fruit or veggie every week, which helps them build the habit of eating produce. They learn how to cook a wide variety of foods. They learn nutrition science. They become conscious consumers, mindful of their food choices on their health, the environment and our community.
"Beets are made out of iron and keep you strong," said one second grader.
"You can eat every part of a beet," said another kid. They're smart! We need to strengthen our commitment to them so they develop the long-term habit of eating vegetables at every meal, every day.
Can we count on your support? Please make a donation today!
We know that kids' health is your top priority. Let's create long-lasting change together!
Related Links