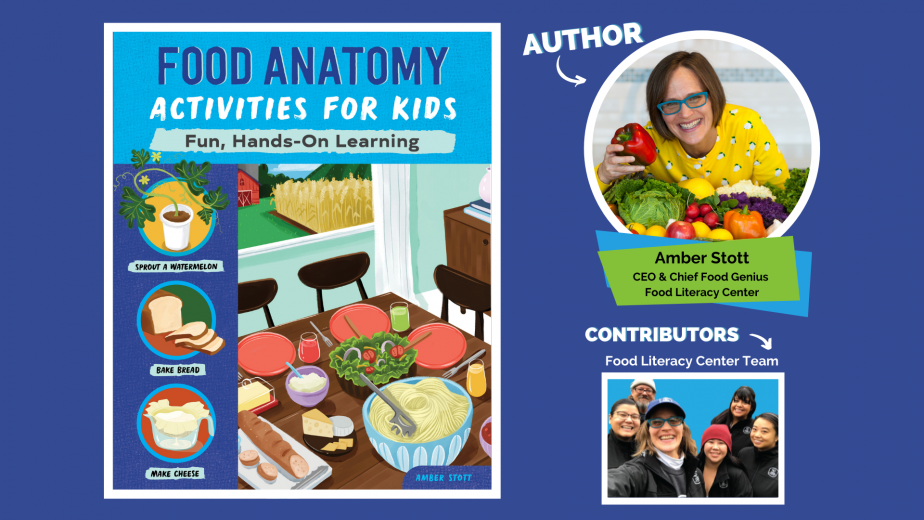 Food Anatomy Activities for Kids – Book Release
By Amber Stott
My debut book is here! Let's become food scientists & explorers!
Kids (and let's admit, adults, too!) are going to love learning with this book. It's like traveling with a passport through the history of food: I explore fruits, veggies, nuts, and grains–the foods early gatherers would have eaten. In every chapter, kids take their learning into the kitchen!
Become a food scientist by charting veggie taste adventures in a journal. Learn about modern advances in food, like the invention of the blender, then roll up your sleeves to experience the difference between smashing fruit with a mortar and pestle versus a high-tech blender.
I help readers understand the science behind our food: parts of a plant, how rice grows, the anatomy of an egg–and how whites and yolks are used for different purposes in cooking.
I explain osmosis through an activity to make salt-cured egg yolks. We explore emulsions by making butter. We learn about fermentation by making pickles from a brine.
I've seen thousands of students light up with joy as they learn to cook with our nonprofit. I know that Food Anatomy Activities for Kids will bring that same sense of exploration and joy to young readers. I can't wait to share it with you!
Grape big gratitude to the entire team at Food Literacy Center, who contributed to the science experiments and recipes in the book!
As a note: Neither I nor Food Literacy Center receive royalties from the sales of this book. I donated my small author fee to the nonprofit. This book is created during a crisis, when cooking has never been more important. We want kids and families everywhere to become more confident in the kitchen. This book allows us to reach children beyond our Sacramento classrooms. I hope you will share it with the folks you love!
Amber Stott
Founding Executive Director & Chief Food Genius
PS: Sign up for Amazon Smile to benefit Food Literacy Center.
Related Links