Post
Food Literacy Center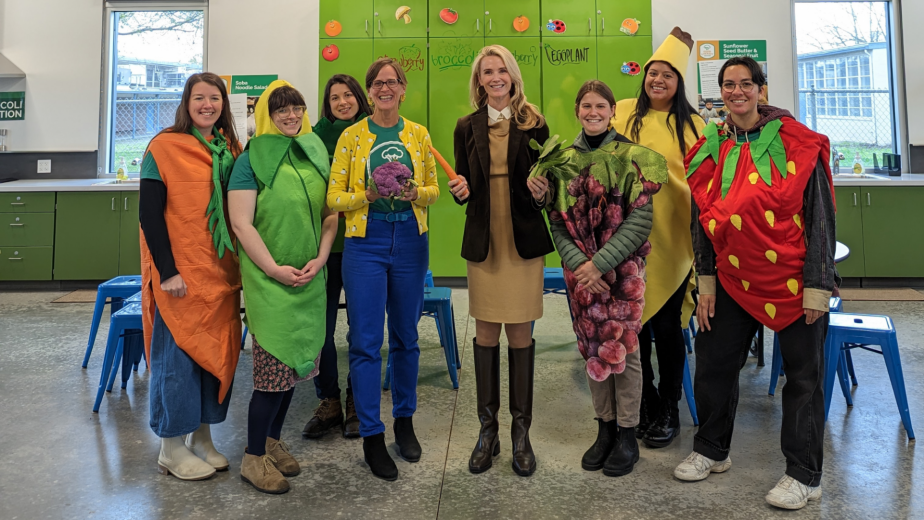 California's First Partner Visits Food Literacy Center
Last week, California's First Partner, Jennifer Siebel Newsom, visited Food Literacy Center. She toured the center's new cooking classroom, commercial kitchen, urban farm and student gardens.
The visit commemorated being one of the inaugural grantees, in partnership with Sacramento City Unified School District (SCUSD), of the first-ever Farm to School grant from the California Department of Food and Agriculture.
In 2021, Food Literacy Center in partnership with SCUSD's Nutrition Services Department, was awarded $376,000 of the state's pilot funding cycle. The grant was awarded to support integrated food-based education and healthy food access for Sacramento students.
The funding was critical to our nonprofit as we opened the doors to our new cooking school in 2022, which included expanded programs. During the term of this grant, which ended March 31, 2023, we served 15 Title 1 elementary schools in SCUSD.
In 2017, Food Literacy Center's CEO, former board chair, Nicole Rogers, and Valley Vision's Trish Kelly advocated for the State of California to create its own Farm to School program.
The federal USDA program had already been established, but wasn't meeting the growing needs of California's programs.
California responded by forming a Farm to School program inside the Department of Food and Agriculture, which Siebel Newsom launched as First Partner.
In 2020, the state formed a planning committee to form the program's goals, and Stott was appointed to its student experience committee. In 2021, the state awarded its first pilot grants, mentioned above.
We're so grateful to California First Partner and California Department of Food and Agriculture for their bold vision to improve child health and well-being through the expansion of farm to school programming and for developing a roadmap to establish an equitable, resilient, and scalable farm to school movement that nourishes all students and provides schools, families, farms, and the environment the opportunity to thrive.
Related Links