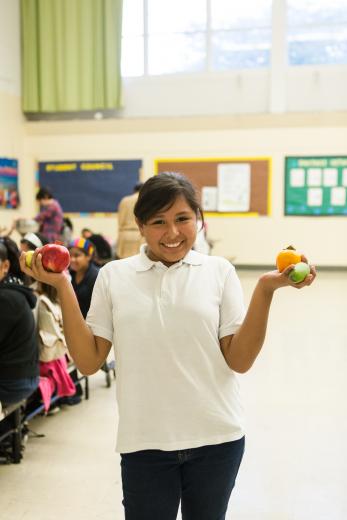 Marisol's Story
Marisol is in 5th grade taking her third year of food literacy classes. Before she started the program, she ate a lot of fast food.
"I didn't eat soup or salad," she tells us. "But now, it's my favorite to try things I've never tried before."
At Food Literacy Center, we inspire kids to eat their vegetables, and we turn them into food adventurers. In order to build the lifelong habit of eating fruits and veggies, it's important to practice just like you would any other habit, like brushing your teeth. So, we expose kids to new produce repeatedly. This becomes an activity that most kids tell us is their favorite.
With help from donors like you, we're reaching 700 kids like Marisol every week for the entire school year. We're committed to these kids for the long-term, because we know it takes time to build habits that will keep kids healthy into adulthood.
In America, only 4% of kids are eating their daily recommended amount of veggies! This leads to a host of diet-related diseases, including childhood obesity, which affects 40% of Sacramento kids.
We can do better for our children!
In food literacy class, Marisol and her fellow students learn cooking, nutrition, and where their food comes from, helping them become healthier stewards of our planet.
Today, after three years of food literacy, Marisol tells us she eats more fruits and vegetables. Importantly, she brings her new knowledge home.
"Grandma loves me being in food literacy class!" Marisol beams. "She makes the stuff we make in class. She uses our recipes."
Marisol also asks her grandma to buy the new vegetables she tastes in class. Her favorites are lettuce, tomato and broccoli.
Please help more kids like Marisol receive food literacy education. Let's keep them healthy today so they grow up to have a bright and healthy future! Donate today.
Related Links