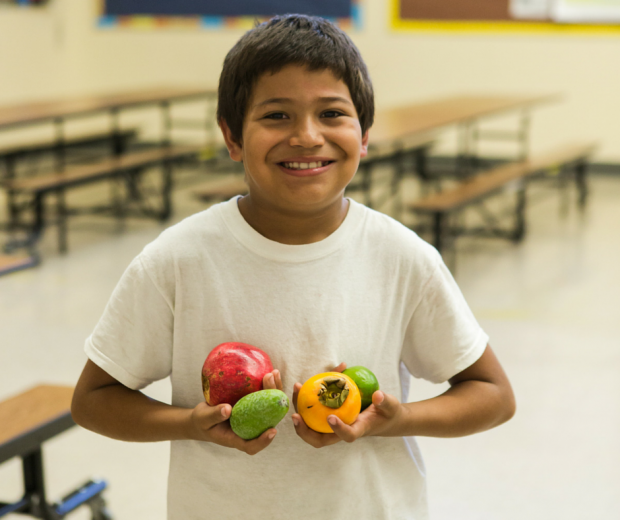 Isaac's Story
When Isaac talks about vegetables, he gets excited! Just ask him what he thinks about eating cactus:
"I really, really, really, really like it," he grins.
We don't make this stuff up! Our program works. Please donate today.
Isaac didn't always feel this way about veggies. In fact, this 9-year-old never ate veggies at all. His typical diet consisted of ham and cheese sandwiches, he says.
What Kids Learn
This year, Isaac's diet—and life—started to change. He's a first-time student in our food literacy afterschool program, where he learns cooking, nutrition, where food comes from, about food waste, and more.
Tasting New Foods
Every day, Isaac and his fellow classmates get to taste a Produce of the Day. This is a new fruit or vegetable, like cactus or persimmons. Kids are invited to taste. This helps them get over their fear of unknown foods, building them into Food Adventurers.
It's critical to help kids develop the habit of eating veggies—just like we teach them to brush their teeth every day. With repeat exposure, new veggies no longer seem scary—they become fun!
In a community with a 40% childhood obesity rate, we have to act now. Please donate!
Before starting food literacy classes, Isaac refused to try new foods, especially vegetables.
"I would never know what they were, and I wouldn't try them because I would think they were nasty," he scoffs.
How does he feel today? After three months of food literacy classes and exposure to a host of novel produce like bok choy and daikon radishes, he's sold on healthy eating.
"It makes me feel like, 'thank you to food literacy!'" He adds, "If it wasn't for them, I wouldn't be eating any healthy food."
Inspiring Parents
We encourage our kids to bring new knowledge home to their families. We send them home with recipes to share. Isaac has done exactly that.
"I made one recipe at home last week," he beams. "I said, 'I'm making a recipe from food literacy.' Mom said, 'What's that?' I said, 'It's a program that introduces us to new foods like cactus.'"
Based on Isaac's enthusiasm, his mom purchased cactus. The result?
"She said it was kind of slimy and then I got to eat it all!" he smiles.
Isaac also inspired his mom to purchase another food he tasted in food literacy class: persimmons.
"I showed her at the store. She got them because they were at a low price," Isaac explains. "They were gone in two minutes!"
So, what doesn't this enthusiastic veggie-eater like?
"Nothing," he insists. And we believe him!
Help us create more vegetable enthusiasts like Isaac. Please donate today. $120 pays for one student like Isaac to receive a year of produce tastings and food literacy curriculum.
Related Links