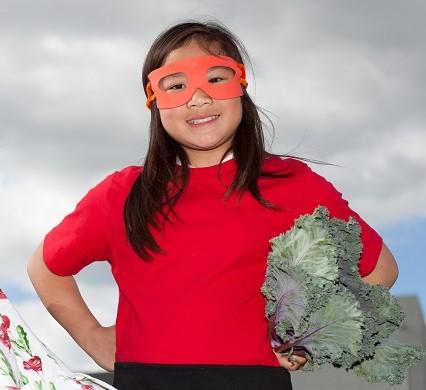 Angela's Story
"I've been taking the recipes home. My whole family makes them for other families. I include the food literacy recipes because they inspire me, and I want others to have a healthy life."
Food Literacy Superhero: Angela
Age: 11
Grade: 5th
Years in food literacy class: 1
First thing her friends told her about food literacy's program:
"Don't be scared."
What's fun about the program:
"We get to do really cool things and fun activities like popping popcorn, stirring, dumping and sometimes coloring," Angela smiles.
Favorite part of program:
"How fun it is to learn the really cool recipes and to have something healthy in your life. The food is really good!"
How she uses what she learns:
"I've been taking the recipes home. My whole family makes them for other families. I include the food literacy recipes because they inspire me, and I want others to have a healthy life."
Her food literacy superhero tip: "Make sure you have fiber in your food."
YOU make these moments possible by donating. Please give where your artichoke heart is!
Related Links