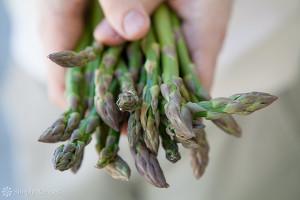 Asparagus
Do you remember being a kid, and only eating the head of the asparagus leaving the stem to roll around your plate? Or maybe you still do that now.
Asparagus is grown from what is called a crown – the crown functions as a seed would. After crowns are planted in sand soil, the crop is usually not harvested for about 3 years. This waiting period allows the crown to establish a strong network of roots. In the spring and early summer months, the crowns produce spears of asparagus for 6-7 weeks. The spear is what you let roll around on your plate.
The warmer the weather is, the more frequently the spears need to be harvested. Asparugus may need to be harvested everyday!
In regard to nutritional value, asparagus is highest in folic acid. Folic acid facilitates the health of your blood cells. Asparagus also has high amounts of rutin, which strengthens capillary walls. The vegetable is low in sodium.
Roasting the asparagus rather than steaming it enhances its flavor. Besides eating it, adding asparagus to floral arrangements gives a fresh natural touch.
Information courtesy of:
Related Links