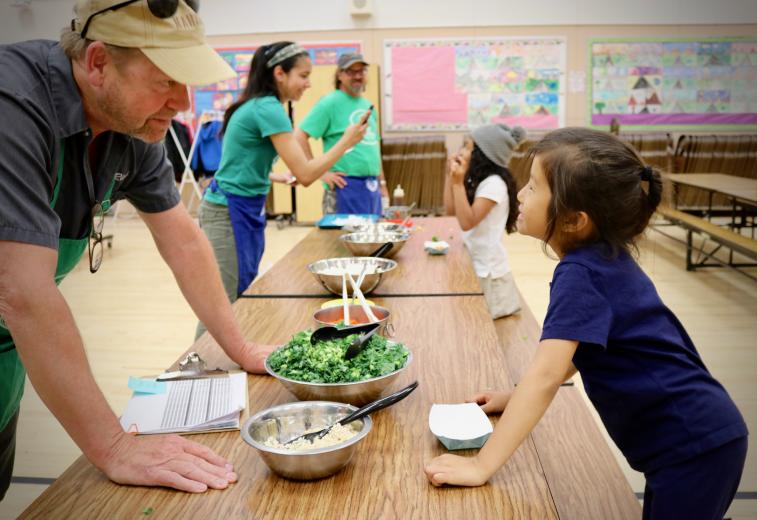 Rick Mahan
Food Literacy Center is extremely fortunate to have the ardent support of one of Sacramento's premier chefs, Rick Mahan, chef/owner of restaurants OneSpeed and The Waterboy. Over the years, Rick and his chefs have participated in many Food Literacy Center events, including this year's Broccoli HQ Night during the Sacramento Food Film Festival, and his restaurants were one of our first donate to help us expand our program to more schools. Food Literacy Center is peach proud to present an invisible cape to our latest superhero Rick Mahan!
Rick has been in the restaurant business since he was 16 years old. He cut his teeth in the industry by first washing dishes and then cooking at a family restaurant. In fact, it was there that he met his first food hero and mentor, a cook named Chuck, whose father owned the restaurant.
"He was so good at what he did, so cool and really instilled in me how important it was to take pride in your work and do the best job you could," Rick said.
After several years of chef's apprenticeship in San Francisco and working in prominent restaurants in Sacramento, Rick became chef-partner in Paragary's. After a gastronomic trip to France, Rick decided to go in another direction and opened The Waterboy in 1996, which became one of Sacramento's top restaurants. His passion for pizza led him to open OneSpeed in East Sacramento in 2009. Both restaurants serve dishes that feature seasonal, farm-to-fork ingredients packed with flavor. With his strong belief in using seasonal produce, Rick encourages home cooks and food lovers to not overlook winter vegetables like chicories and bitter greens. If they are prepared with balance and thought, they can be beneficial to the American diet—and taste great.
Rick became involved with Food Literacy Center after meeting Amber Stott at a friend's party. He was impressed with her mission of teaching kids all about good, nutritious food, and decided to get involved in the program. Rick was one of the first chef/owners to enlist his restaurants to help us fundraise and promote our program. He currently features monthly dishes at The Waterboy and OneSpeed that donate a portion of their proceeds to Food Literacy Center.
"Rick has been with us from the start," says Amber Stott, Food Literacy Center founder and CEO. "He's a dad, so he understands how important this work is. He recently visited our classroom, and the kids loved his energy!"
As the proud father of a ten-year-old girl, Rick can empathize with parents of fussy eaters. His daughter is "the pickiest, most suspicious eater" he has encountered and it used to frustrate him. However, he has learned to let go and give her the space she needs to grow into an adventurous eater.
"I've decided to let her come to good food on her own terms," Rick said. "I no longer get frustrated, but I try and gently provide insight on the connection between wholesome food and good health. Eventually, she'll come around."
Rick encourages young people who are interested in becoming chefs to start young and work with others who genuinely love the business.
"I believe this can be a rewarding and beneficial career as long as it's understood that true passion, love and hard work are the most important elements in success," Rick emphasized.
For his stalwart dedication in encouraging kids and adults to eat healthy, seasonal foods, and his enduring support in our efforts to provide food literacy to low-income kids, we are honored to call Rick Mahan our Food Literacy Hero! Not all heroes wear capes, some wear chef whites!
Related Links