Mark Casale
Food Literacy Hero
This month's Food Literacy Hero is Mark Casale, Executive Chef of Dos Coyotes Border Cafe.
At Food Literacy Center, we have been incredibly fortunate to have the support of local chefs who have volunteered their time and expertise to help us inspire kids to appreciate good, healthy foods. This month, we want to shine an especially bright spotlight on Dos Coyote Border Café's executive chef, Mark Casale and honor him as our Food Literacy Hero!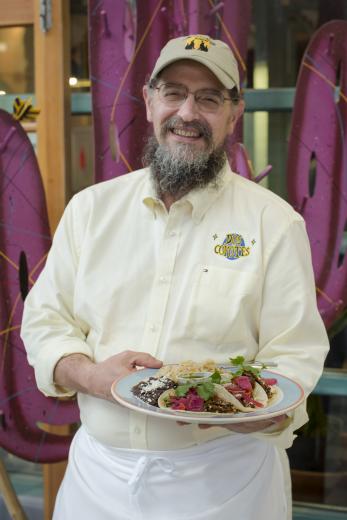 Dos Coyotes and Food Literacy Center created an innovative campaign called "Tacos for Charity," an idea owner and founder, Bobby Coyote, brought to the nonprofit. How it works: throughout the year, guest chefs create a recipe in collaboration with Chef Mark. The recipe becomes a special menu item, and every time a customer orders it, 50 cents to a dollar is donated to Food Literacy Center.
This season, Chef Mark collaborated with guest chef Michael Tuohy, executive chef and general manager at Legends Hospitality ESC Sacramento to create a special dish at Dos Coyotes highlighting the "tres hermanas" (three sisters) of squash, beans and corn. A portion of every sale of this special menu item benefitted Food Literacy Center's cooking and nutrition classes.
Mark feels that it is important to teach food literacy to kids because many people have lost their cultural attachments to the traditional methods of cooking at home. Children are not raised with the knowledge of where their food comes from and how it can affect their health and wellbeing.
"With this organic learning environment missing, it has become vital that people of all ages have access to good information about food sourcing, nutrition and preparation," Mark said.
Growing up in an Italian family, good food was a central theme in Mark's childhood. His Sicilian grandmother, Sarafina Pontrantolfi taught a young Mark how to make pasta, pizza and other Italian meals, and was his top inspiration in his journey to becoming a professional chef. Mark's father was raised on a dairy farm and turkey ranch, and his cousins owned a company that has continued to make fresh mozzarella and ricotta to this day.
"My first job was helping my uncle who owned a cheese and gourmet foods shop in Summit New Jersey in the late 60's and early 70's," he said. "He stocked over 400 varieties of cheese from around the world. How could I not appreciate great food with this sort of upbringing?"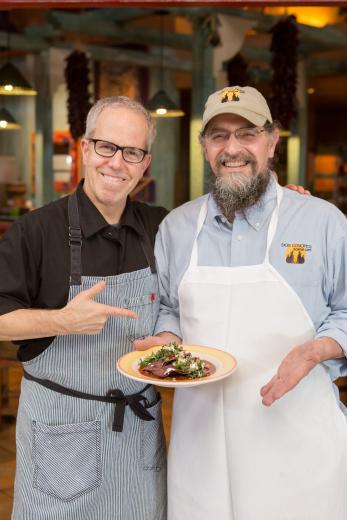 When he was working his way through University of California, Davis as a line cook, Mark realized that he loved the restaurant environment. After earning his degree in Agricultural Economics, he attended New England Culinary Institute and has been in the kitchen since.
His love for cooking goes beyond the professional kitchen. Mark cooks simple, seasonal meals with lots of fresh vegetables at home. He varies the proteins to include beans and fish, limits red meat to once or twice a week, and will prepare at least one vegetarian dinner during the week. His advice to busy parents is to plan their week in advance and do as much preparation as they can during the weekend. Cooking for the family becomes less stressful if they know what they want to prepare on any given day.
"Give the kids a wide variety of tastes, textures and experiences through the week. Keep it fun and interesting," Mark added.
Mark's food literate lifestyle goes beyond being a fantastic chef! He also walks to the farmers market for his produce and maintains a year-round garden because, as he declared emphatically, "what sort of Italian would I be if I didn't!"
For his tremendous love for good, wholesome food, his awesome creativity and talent as a chef, and his unwavering support to our food literacy cause, we are proud to call him our Food Literacy Hero!
by Heather Teoh
Related Links