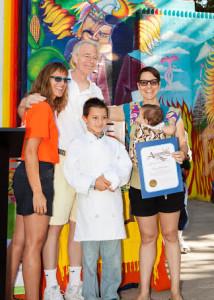 Jillena Hernández
Food Literacy Hero
Jumping jujubes! We're excited to bestow a long overdue Food Literacy Hero recognition to someone who has worked tirelessly with us for years, our very own president, Jillena Hernández.
Jillena is a founding member of the California Maternal Mental Health Task Force and currently works at the California State Assembly. Her training of Food Literacy Center staff led to a successful collaboration between the nonprofit and Assemblymember Roger Dickinson on the passage of ACR 161, declaring September as Food Literacy Month in California. Her policy expertise and passion for healthy foods have helped Food Literacy Center reach more communities and gain a wider national audience.
An avid vegetarian home cook and novice gardener, Jillena credits her mother for instilling a love for wholesome foods in her. Her mother made sure that they had mostly whole foods in the house instead of processed foods, and taught her children how to eat and cook vegetables. Jillena has an affinity with many of the low-income students we teach because she grew up in a household that struggled to make ends meet too.
"We were very poor growing up but healthy food was a priority so that budget was stretched farther when needed," said Jillena.
Today's low-income families have more accessibility to fresh fruits and vegetables at food banks and farmers markets. However, in the age of convenience food, many people lack the skills to cook healthy meals from scratch. Jillena believes that Food Literacy Center provides children, especially those from low-income families, the necessary tools to take advantage of available fresh produce.
"The impact is enormous. Think of a child asking his mom or dad if they can help make dinner versus asking for a ride to a fast food restaurant," said Jillena. "Peaking their interests and taste resonates throughout the family."
A vegetarian or vegan most of her life, Jillena encourages everyone to incorporate more fruits and vegetables into their diet by substituting items in their current favorite recipes instead of overwhelming themselves with new cookbooks they may not use again. For example, a layer of meat and cheese in lasagna can be substituted with greens or sautéed carrots and onions. She also encourages everyone to buy a new vegetable or fruit from the grocery store each week to expand their palates.
Children can learn to become adventurous eaters too, as evidenced in food literacy classes. Parents can nurture that at home by letting their kids pick the new vegetable or fruit and including their help in the meal preparation. While Jillena prepares dinner, she lets her one-year-old daughter hold all the vegetables and tells her what they are and how they taste. She also does not regard sugary desserts as a reward for a healthy dinner. Instead of eating desserts, the main meal itself is a delicious treat for her family.
"You can't dangle the thought of ice cream in front of a kid and expect them to be excited about asparagus," Jillena said. "But if we are all excited about a bright green spear on her tray she will hastily dive in."
Jillena's passion for food literacy is evidenced not only in her dedication to our nonprofit but also her passion for cooking wholesome, healthy food at home. We are extremely fortunate to have her on our team and are proud to name her one of our awesome Food Literacy Heroes!
Story by Heather Teoh
Related Links