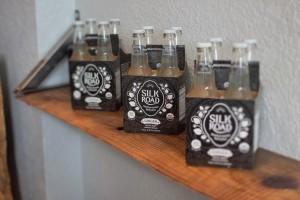 Silk Road Persian Night at Formoli's
January 12th, 2015
Food Literacy Genius, Payam Fardanesh, came to Food Literacy Center because of his passion and expertise on fruit and authentic Persian cuisine. When he's not volunteer teaching food literacy to kids in the Sacramento area, he's the owner of a successful beverage company, Silk Road Soda, which took first place at last year's prestigious Fancy Food Show in New York and has also been featured on Oprah.com.
For this event, Fardanesh partners with renowned local Mediterranean chef, Aimal Formoli of Formoli's Bistro on an authentic Persian dinner. Served family-style, the four-course meal will include the two chef's specialties, wine, and a sneak preview of Silk Road's newest flavor, ginger mint. The vinegar-based drink is actually a "shurb," and is a recipe based off Fardanesh's grandmother's. Fardanesh and Formoli will speak to diners about each dish, providing a lesson in traditional Persian cuisine.
For more information, and to purchase tickets for this event click here.
Related Links