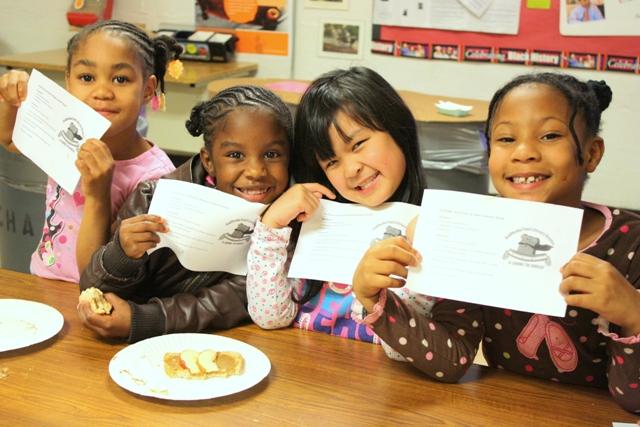 Save the world with broccoli smiles!
December 18th, 2012
Help us raise $11,000 by January 1! Donate to our campaign here.
When you eat broccoli, do you smile? We do! So do the kids in our food literacy classes – many for the first time.
That's a big reason why 38% percent of kids in California are obese. They have adult diseases like high blood pressure and diabetes – and they're carrying these problems into adulthood.
This makes us sad.
So we're changing that – saving the world with broccoli smiles.
We teach food literacy: and we make it fun. The kids in our classes are learning how to cook, eat right and enjoy healthy food.
After a semester of teaching, 70% of kids request broccoli and celery from their parents. 88% know how to read a nutrition label. 100% know how to cook a healthy snack. 100% now eat their vegetables.
Help us raise $11,000 by January 1! Donate to our Indiegogo campaign here.
We know how to stretch a dollar! With just $11,000, we can accomplish all this:
Teach 100 K-5th grade kids a weekly food literacy lesson
Write 33 weeks of food literacy curriculum
Train 15 community volunteers to become food literacy teachers through our 10-week Food Literacy Academy
Bring food literacy education to more schools and nonprofits
Cook a weekly healthy dish, and share the recipe with you on our website
Report on weekly food news to keep you informed
You can make a difference in these kids' lives! Help us empower them with the right knowledge and skills to become food literate! Be their food literacy heroes!
Please make your donation before January 1 to help us reach our goal! We're using the secure Indiegogo platform. Make your donation today. THANK YOU!!
Related Links