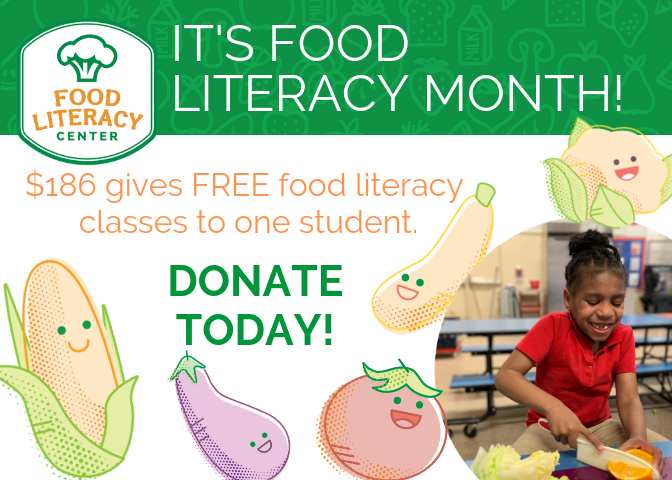 Food Literacy Month
September is Food Literacy Month
In 2012, Food Literacy Center worked with the California legislature to declare September as Food Literacy Month to raise awareness about the need for cooking and nutrition education for kids. Donate now!
When you show a child that her health matters, you're showing her you care.
Why Food Literacy Matters
Our community is facing a public health crisis. Chronic diseases are the leading cause of death and disability in America. 40% of local kids face childhood obesity, while 1 in 3 suffers from type two diabetes. Healthy food is the strongest lever to improve human health. We empower children with the solution: eating their vegetables.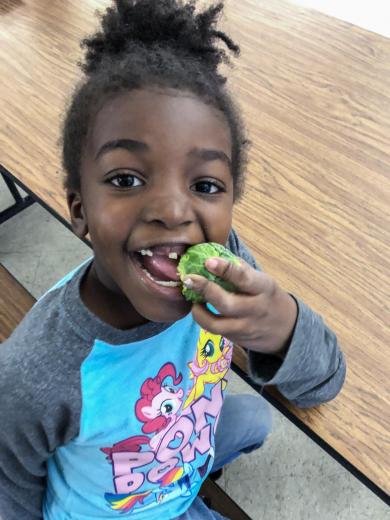 Giving kids junk food is easy but it takes bravery and persistence to joyfully show up with veggies. We enthusiastically roll up our sleeves for this work at Food Literacy Center. Through hands-on cooking and nutrition classes, students learn to taste new fruits and vegetables. Kids joyfully become advocates for their own health and gain skills for a healthier future.
Show our kids that their health matters.
$186 ($15.50/mo) gives 1 kid a year of FREE food literacy classes.
Donations allow us to teach more kids, train more Food Literacy Geniuses, buy more broccoli and create meaningful public programs to build a healthy, sustainable community.
Veggie of the Year Contenders
On September 12, five local chefs will compete to win the kids' votes for Veggie of the Year! The kids will try the raw bite and a chef prepared bite and pick their favorite vegetable to reign for the next year.
You can also vote with your dollar! Choose your favorite veggie team and donate. At the end of Food Literacy Month, the team with the most donations will be crowned as the People's Choice winner. Matching funds of $5,000 per team provided by Bailarin Cellars, Clover Sonoma, Cobram Estate and Confucius Institute at UC Davis.
Broccoli backflips for our Food Literacy Month sponsors!

Related Links