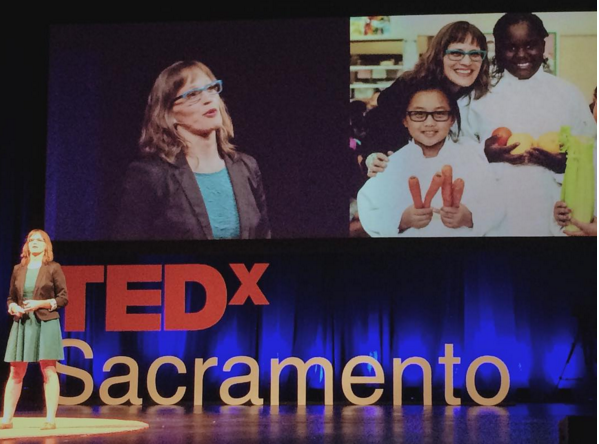 Watch Chief Food Genius' TEDx Talk
Chief Food Genius Amber Stott was chosen a few months ago as a TEDx Sacramento Fellow. Among 100 applicants, only six of us were selected for this honor. During the recent TEDx Sacramento event, she presented my talk before a live audience of over 2,000 people.
We're thrilled to share her TEDx Talk with you today! The short, 4-minute video is now live for viewing. Click here to watch the video.
A big broccoli backflip of thanks to Brandon Weber and Urban Hive for this honor!
The talk is called "Building Broccoli Habits." In it, Amber shares tips that you can use at home to learn to eat like a kindergartner.
This topic is so important! Only six percent of kids eat their daily recommended amount of veggies. While lack of food access is one contributor, it's not the main factor we're up against. Recent studies point to lack of education as a leading cause of poor diet.
At Food Literacy Center, we bring healthy food education to kids who need it most. By helping kids develop healthy habits while they're young, we can build the next generation of healthy eaters.
We hope you enjoy our Chief Food Genius' TEDx Talk. Please share it with others. Help us spread the message!
If you like what you hear, please donate today! We'll use the funds to help more kids build broccoli habits of their own.
Related Links