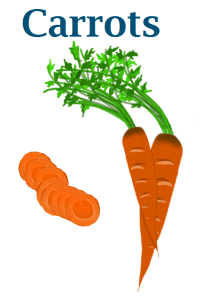 Veggie of the Year 2014 Announced!
Food Literacy Center announced the Veggie of the Year today at a press conference during the Food Literacy Fair hosted by the nonprofit in partnership with Assemblymember Roger Dickinson and Southside Park Neighborhood Association.
The winner is: CARROT!
Ten seasonal vegetables were selected for the running by the fair's planning committee based on seasonality and popularity. Although some of the contestants were botanically fruit, the committee selected produce that is popularly consumed as vegetables.
These ten veggies were posted on Facebook, where the public voted for their favorites. The top five semi-finalists were brought into the elementary school classroom at Capitol Heights Academy, where a team of local restaurant chefs presented the veggies to 120 students to taste and vote. The top five contenders included endive, beets, avocado, bell pepper and carrots. While the running was a close race, carrot won the most votes in the end, making it Veggie of the Year 2014. Last year's winner, sweet potato, was ineligible for this year's contest, encouraging the kids to select a new winner–and try new veggies.
To mark the occasion, community members are encouraged to join the Veggie of the Year Challenge and eat more veggies! There's even prize incentive: folks who take photos of themselves cooking and eating veggies can post them on Facebook for a chance to win great prizes. For details on the contest, click here.
"We want more families eating vegetables!" said Food Literacy Center executive director, Amber Stott. "We hope this contest inspires folks to be food adventurers and try the Veggie of the Year–and many more delicious vegetables."
Related Links