Thank You to Our Supporters
We did it! With your help, we beet, peppered and carroted our way to $18,270.25 during the Big *Broccoli* Day of Giving!
THANK YOU to everyone who participated!
With 99 donors contributing, you showed us once again how much our kids' health means to you. We are grateful to have earned your confidence. Your dollars will be put to work bringing additional cooking and nutrition classes to low-income kids in our region.
One of you told us, "It's not often that one can give with total confidence. Thank YOU for making all of this wonderful work WORK. Congratulations to you for creating this organization and so skillfully embedding it in our community."
We take deep pride in our responsibility to serve our children. We know that you, our donors, are our biggest partners in this work. Thank you for continuing to partner with us, making vegetables fun for kids. The healthy habits they learn today will last a lifetime.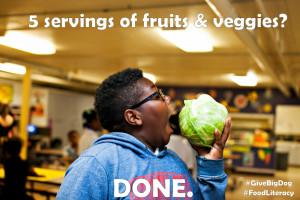 If you haven't yet seen our thank you video, please follow this link to receive a proper pea pod cartwheel of joy!
Thank you to the 99 donors who gave, and to the bloggers, businesses, volunteers, parents and friends who made this possible! We are proud to receive 100% board and 100% staff giving during the campaign. The people who serve this agency are fully committed to partnering with our donors.
On behalf of our children, we thank you!
To view a full list of friends who partnered in the planning and execution of this campaign, please visit our website.
P.S. If you didn't have time to give during Big Day of Giving, you can still make a donation to help kids learn healthy habits that will last a lifetime! Please donate here.
List of Campaign Partners
Food Literacy Center Board of Directors & Staff
Food Literacy Geniuses
Capitol Heights Academy Staff & Students
Kristin Thébaud Communications
Sacramento Region Community Foundation
YOU!
Related Links