Silk Road Persian Night at Formoli's
Food Literacy Genius, Payam Fardanesh, came to Food Literacy Center because of his passion and expertise on fruit and authentic Persian cuisine. When he's not volunteer teaching food literacy to kids in the Sacramento area, he's the owner of a successful beverage company, Silk Road Soda, which took first place at last year's prestigious Fancy Food Show in New York and has also been featured on Oprah.com.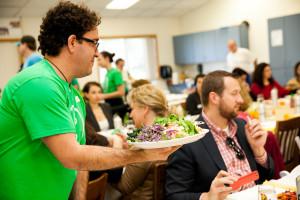 For this event, Fardanesh partners with renowned local Mediterranean chef, Aimal Formoli of Formoli's Bistro on an authentic Persian dinner. Served family-style, the four-course meal will include the two chef's specialties, wine, and a sneak preview of Silk Road's newest flavor, ginger mint. The vinegar-based drink is actually a "shurb," and is a recipe based off Fardanesh's grandmother's. Fardanesh and Formoli will speak to diners about each dish, providing a lesson in traditional Persian cuisine.
Ticket Includes:
Traditional Persian dinner, served family-style, Syrah wine, and 4-pack of Silk Road Soda
MENU
Herb and Feta Cheese Plate
A fresh herb and cheese plate is the start of every formal Persian meal. We will be serving mint, basil, butter, walnuts, and Bulgarian (sheep milk) Feta cheese. Warm Lavosh breads will also be served and Payam will demonstrate the various appetizer combinations that can be made. The appetizer plate stays on the table throughout dinner and is picked at to taste and desire.
Mast-O-Khiar (tzatziki sauce)
Persians eat a lot of cucumbers. They are actually considered more of a fruit than a vegetable. This yogurt and cucumber side dish is a example of a perfectly balanced 'hot' and 'cold' dish. This side dish is prepared as an appetizer to be eaten with Persian breads; it also can be mixed with the main dish of eggplant stew with rice.
Koreshteh Bademjoon (Eggplant and Tomato Stew)
The eggplant came to ancient Persia via India and according to medieval Iranian writers of medicine, it needs to be cooked and eaten with caution as it creates a lot of heat in the body. In this signature dish eggplants are heated in a frying pan until golden brown, stewing beef is also seared, and combined with garlic, onions, lemon, turmeric, cinnamon and saffron. The stew is then left to simmer for hours and is served over long grain basmati rice.
Silk Road Sodas
Silk Road Soda is based on an ancient Persian beverage recipe called Sekanjabin. For this dinner all four flavors: Cucumber, Pear, Pomegranate and Ginger –Mint will be available, and each guest will receive a 4-pack of the newest Ginger-Mint flavor.
Tea and cookies
To conclude the night freshly brewed tea will be served. An Earl Gray, cardamom, and jasmine blend is a favorite of Persian cooks and will be served at the conclusion of the meal. A light assortment of Persian tea cookies will also be served.
Related Links