Sacramento Farmers' Market
Farmers' markets are staple events for the summer, the season when some of your favorite fruits and vegetables are being harvested and the stroll-through-and-marvel-at-whatever-catches-your-eye-weather beckons.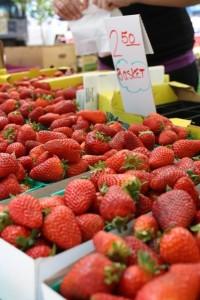 The Downtown Sacramento Certified Farmers' Market opened this month and will be running through late summer/fall. A certified farmers' market is one where all farmers are selling produce they have personally grown and harvested with the intent to sell directly to consumers rather than commercially. All of the produce being sold is California grown, giving you access to delicate fruits and vegetables that are typically susceptible to damage when packaged and distributed traditionally.
(Information Courtesy of http://www.california-grown.com/cfm-about-us.html)
Once again there will be five weekday farmers' markets downtown. Shoppers can visit the farmers' market at Roosevelt Park and Fremont Park on Tuesdays, Cesar Chavez Plaza on Wednesdays, and the east end of Capitol Park as well as Capitol Mall on Thursdays. Markets begin at 10:00 am and go until 2:00 pm.
Farmers' Market Schedule
Tuesdays:
Fremont Park, 16th & P streets | May 6 – Sept. 23
Roosevelt Park, 10th & P streets | May 6 – Sept. 23
Wednesdays:
Cesar Chavez Plaza, 10th & J streets | May 7 – Oct. 29
Thursday:
Capitol Mall, 6th & Capitol | May 8 – Sept. 25
Capitol Park, 15th & L | May 8 – Sept. 25
This event is produced by the Downtown Sacramento Partnership, in cooperation with Certified Farmers' Markets. For more information, visit downtownsac.org
Related Links