Notes from James Beard Conference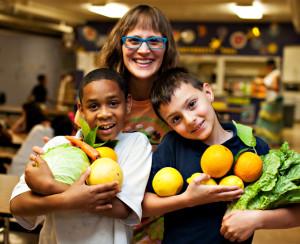 Last month I was invited to attend the James Beard Foundation's Food Conference, a prestigious event tailored to a small audience of food thought leaders, featuring discussion sessions with authors Michael Pollan and Mark Bittman; film producer of [Amber and Kids] Fed Up, Laurie David; Let's Move executive director Sam Kass; and many more. Participants ranged from authors of national publications, leaders from innovative nonprofits, pediatricians and others hoping to change our food system. The event theme: health.
In a room filled with change makers discussing the future of America's health, the topic of food literacy repeated. Doctors called for eating more fruits, veggies, nuts and seeds with less sodium, sugar and processed foods—messages everyone agreed needed to reach the youngest generations. The power of cooking was celebrated as a leading solution to our diet-related problems.
"Cooking isn't a value of this country anymore," said Laurie David. "I see this as a justice issue that kids don't have a shot at a healthy future."
Discussions also included a call for changes in food policy, education of youth, and the mobilizing of America's biggest role models, chefs. While obesity rates continue to outpace tobacco use as the leading cause of preventable death in America and two generations of families do not know how to cook, some attendees asked whether the food movement is building enough momentum. My view from the ground floor of a growing grassroots nonprofit is a resounding YES! This quarter, fast-food giant McDonald's profits fell 30 percent, marking its fourth straight quarter of losses. In San Francisco and Berkeley, California, ballot measures invited voters to approve a tax on sugary beverages. Locally in Sacramento, PTA groups are passing school-wide wellness policies to get junk food out of constant reach of their kids, nonprofits are collaborating to improve city ordinances around urban gardening, and even libraries have expanded cooking classes for families.
As a member of Food Literacy Center's Food Literati, your support is a revolutionary act. Your dollars bring us into more schools, improving kids' cooking and nutrition skills—habits they will carry with them for life. Your volunteer time widens our reach. Let's continue building momentum. Together, we are making a powerful difference!
~ Amber Stott, Founder and Chief Food Genius of Food Literacy Center
Related Links