New Office, New Program Coordinator, New Students!
Here at California Food Literacy Center, we're growing like a patch of zucchini! With a new office, a new program coordinator, and new students to serve, we sure are looking pretty good!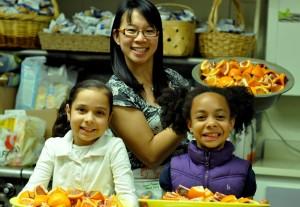 New Program Coordinator
Elaine Fok, our new program coordinator, started in January. She brings more enthusiasm and energy to support the food literacy mission. With a previous background in sustainable agriculture research and entomology, she was already somewhat tuned in to food literacy. She says, "Our definition of food literacy is pretty much an extension of my personal philosophy on food." After meeting Amber, she knew she had found a way to become more involved in the food movement.
Fok works not only on the back end but also on the front lines as she enjoys teaching in an untraditional environment that fosters experiential learning. She exclaims, "I try to talk the talk and rock the wok!" She is excited to see the nonprofit scale up and increase its capacity.
New Schools
And boy are we on our way to that already! Recently our program has expanded to Florin Elementary and Pacific Elementary, for a total of three schools served, all in South Sacramento, an area targeted by local health foundations as an area of greatest need for services to combat childhood obesity.
Our excited and curious new students at Florin Elementary are halfway through our thirteen week program. They can recall lessons from the very first day, and are eager for more food literacy! We continue to build on their knowledge and introduce new terms, like "fiber" and "calories."
At Pacific Elementary, we partner with the Boys and Girls Club afterschool program, and Soil Born Farms on-site school garden. The cool part is that we use produce from the school's own garden in the snacks we make for the kids.
New Volunteer Orientation
Would you be interested in playing a part in our expansion? Consider volunteering with us!
On April 16 at 6PM we're holding a new volunteer orientation. Please join us! Our address is listed below.
New Office
In January, we moved into our first office! Instead of working out of our executive director's living room, we are now housed within the Medical Society building, renting a single room in a building filled with other health nonprofits. The building has a shared conference room and shared kitchen, making us feel right at home.
We hope you'll join us on May 1 at 5:30PM for our Open House! We'll have food, libations and kids ready to help you learn more about eating fruits and vegetables.
Our new address: 5380 Elvas Avenue, Suite 214 in Sacramento.
Related Links