My Journey through the Food Literacy Academy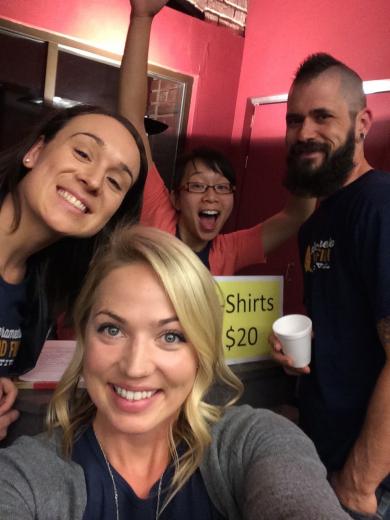 While one in five American children struggle with hunger, more than one third of children and adolescents are overweight or obese. These seemingly contradictory public health statistics combined with my passion for building community inspired me to attend Food Literacy Academy to become a "Food Genius".
Before I tell you about my journey through the Food Literacy Academy, I would like to give you a little information about me and how I became interested in food literacy. I grew up on a ranch about 30 miles east of Sacramento. My childhood memories of growing up on a small ranch consist of collecting warm eggs, raising cattle, and harvesting fruits and vegetables from our small garden. At a young age I began playing competitive volleyball, and soon traded in gardening and animal raising for bumping and spiking. Luckily playing volleyball opened many doors for me and eventually led me to accept a full-ride scholarship to Wichita State University (WSU) in Kansas. As a student at WSU, I participated in a variety of events related to hunger relief and community sustainability.
When I graduated and moved back to California, I was looking for opportunities to get involved in improving the Sacramento Region. My journey to becoming a "Food Literacy Genius" began when my friend Katie, who studies food systems at Chatham University, told me about this cool, new organization in Sacramento called the Food Literacy Center. She explained their mission and convinced me (it didn't take much) that it was the perfect place for me. So, I decided to apply and was accepted into the Food Literacy Academy.
There are many things I appreciated about the Food Literacy Academy, but for the sake of your sanity I will keep it to the important three: it builds community, it will educate you, and it will light a fire!
It builds community!
On the first day of Food Literacy Academy, each student laid out an enthusiastic tale of their journey toward joining the Food Literacy Center. From chefs to nurses, we all had one thing in common: passion for food literacy.
Throughout the nine week course, I realized that the people in my cohort were all essential players in a very powerful food movement in the Sacramento region. We all play our own role, but, together, we have the potential of really changing the way our community thinks about food. That realization was very empowering for me.
It will educate you!
My cohort was full of some amazing people with diverse backgrounds; chefs, nutritionists, family advocates and food educators. And then there was me. I didn't have a background in nutrition or professional cooking experience. I did, however, feel pretty confident in my ability to teach kids, since I coached volleyball for over a decade. But that confidence was fleeting when I realized I didn't know how to explain fiber to a 5 year old.
After the first day of class, I realized I wasn't alone. The chefs and nutritionists knew a great deal about food and nutrition, but they wanted to learn how to teach what they know to children. I think that is the brilliance of the Food Literacy Academy. It doesn't matter how much you know about nutrition, or the physiological development of a child, or classroom management. You will learn it all in the class.
It will light a fire!
Before I decided to attend the Food Literacy Academy, I was very passionate about community development and sustainability. I had always looked at these issues through the lenses of city planning, public health, economics and community engagement. It wasn't until I started the Food Literacy Academy that I realized that understanding and repairing our food system would require changes in all of those areas. Food was the connecting piece. It was this small change in viewpoint that really drove me to want to do more.
I realized that the work we do as "Food Literacy Geniuses" empowers children and families to take tangible steps toward implementing improved lifestyle choices. It is through these efforts that we will create a more sustainable and healthy future for our community.
You should become a "Food Literacy Genius"!
There are three things that I believe a person needs to be successful at whatever it is they do: knowledge, passion and community. Through the Food Literacy Center, you will learn about everything from nutrition to recipe development. You will foster your passion for whatever it is you burn hot about. And you will be a part of a community of people who burn just as hot as you.
Become a Food Literacy Genius by applying today! The next academy runs June 19-21, and the application deadline is Friday, June 6.
Childhood hunger and obesity: Look out, because the "Food Literacy Geniuses" are coming for you!
Written by: Melissa Granville, Food Literacy Genius
Related Links