Kids Eat Up Fruit & Veggie Fun Facts through Food Literacy Curriculum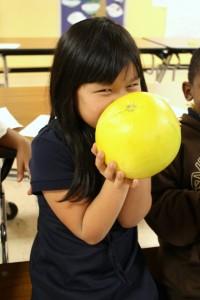 At California Food Literacy Center, we mix food and education with a healthy spoonful of fun!
Our curriculum "Your Peanut Butter Can Save the World" is currently underway at a Sacramento charter school, Capitol Heights Academy. We are teaching 100 kids from kindergarten to fifth grade how to make better food choices that are good for them—and for the planet.
Three weeks into our 3-month program, kids are learning the difference between fruits and vegetables, the new "My Plate" guidelines that encourage eating meals containing mostly fruits and vegetables, and the importance of protein, fiber and vitamins.
The kids are particularly excited when we show them unfamiliar fruits and vegetables, and enjoy getting to touch, smell and taste them. So far, we have introduced them to fennel, pomegranate, bok choy, kale and pomelo, among others. Through hands-on activities, visual aids, and question and answers, students eat up new information about healthy food and why it is good for them.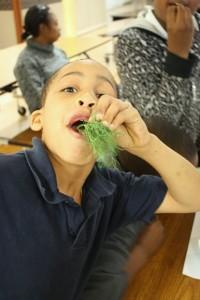 Read what our enthusiastic learners have discovered!
"I learned that broccoli is a superfood!" (4-5 grade)
"Fruits have seeds and vegetables don't." (2-3 grade)
"You can eat the seeds from a pomegranate" (2-3 grade)
In upcoming sessions, we'll discuss food labels, how to use recipes, food and our planet, how to make healthy snacks, and more.
Importantly, kids are learning the value of a low-cost, healthy food that's easy to make at home: a peanut butter sandwich. We'll continue to provide updates as they learn, so stay tuned!
Related Links