Incorporating Food, Fun & Fervor!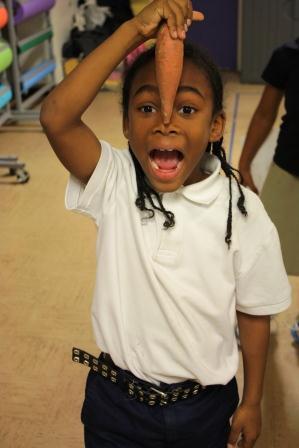 As we celebrate Food Literacy Month, we also celebrate the kids we teach every week about how food is grown, what's healthy for our bodies, and how to follow easy recipes!
Every week, we try to present fun facts in our stories about food. This week, we want to present fun facts on our pilot year at Capitol Heights Academy, teaching 100 K-5 graders through our curriculum "Your Sandwich Can Save the World!"
Kids are independently learning!
The K-1 teacher at Capitol Heights Academy told one of our food literacy volunteers that the kids are reading their snack food labels without any prompting from her! They were discussing whether the snack was healthy for them.
A student from the 4-5th grade section told us, "I went home and looked at nutrition facts on my food!"
Kids are trying new food for the first time…and loving it!
When we taught the kids how to follow a recipe to make sunflower seed butter and apple sandwiches, almost all of them were tasting it for the first time. They loved the combination and most of them said that they wanted to make the sandwich at home.
On our last day of class, one of the parents noticed her son was eating the watermelon 'ice cream' we made (we added frozen watermelon chunks to the food processor to create an 'ice cream' texture). She said that her son had never liked watermelon until that day! She was thrilled!
Kids are educating the adults at home!
We showed the kids what was in a fast food burrito and then created one with store bought ingredients. At the end of the lesson, kids were saying "it's better to make your food at home" and "it's healthier to eat homemade food than fast food!" A week later, a kid said that his uncle came home with fast food and the child told him that it wasn't healthy for him and why!
Another parent told us that her son loves our lessons and runs home to tell her all about it! He's also an avid gardener and planted seeds that we gave the kids at a school event. We can't wait to talk to him when we return to class this week and find out what he grew!
Parents have told teachers that they're impressed with the food vocabulary and food experiences their kids are having through our program.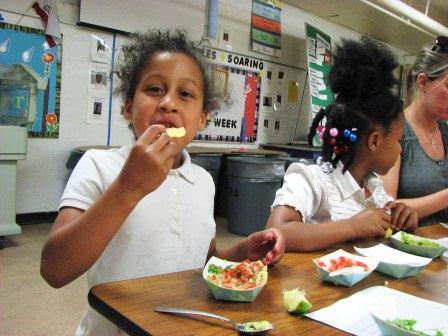 The teachers love us!
Emilie Beecroft, Afterschool Director at Capitol Heights Academy, said, "The Food Literacy Center's curriculum provides lessons and life skills about food that many of our students don't have access to. Kinders through 5th graders discuss with me about my choices for their daily snack recalling lessons from Food Literacy! I have heard them ask how much fiber is in a certain food! This kind of dialogue from this age group is pretty impressive."
"The teachers, principal and myself are extremely impressed with the food literacy curriculum and how the lessons are catered to specific grade levels. The California Food Literacy Center and their program have been totally accommodating, easy to work with and extremely professional. I would gladly work with them in the future."
We love working with the teachers and kids at Capitol Heights Academy and look forward to expanding our program to more schools in the area. We can't do that without YOUR help! We need supplies, volunteers and donations. Please consider donating to our cause. We can all save the world, one kid at a time, and one sandwich at a time!
Related Links