Holiday Fund-A-School Drive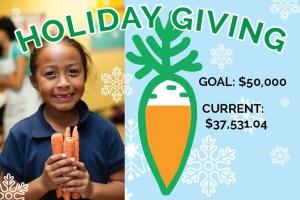 40% of Sacramento kids struggle with childhood obesity. But it doesn't have to be this way.
Your donation to Food Literacy Center will help prevent this disease by teaching kids like Pearryn to eat healthy! Help fund a school today!
Pearryn's Story
Pearryn is in 2nd grade and has been in food literacy class for two years at Capitol Heights Academy, a public charter school in Oak Park, Sacramento. "Pear," as she is appropriately called, is being raised by her mom Evonne who works as an after-school teacher. In a community with a 40 percent childhood obesity rate, programs like Food Literacy Center become paramount to building healthy changes that will last a lifetime.
Pear has become a food detective and will often ask, "Mommy is that healthy?" If Evonne isn't sure, they will read the nutrition label together, a skill Pear learned in food literacy class. Pear is not alone; 80 percent of her classmates now know how to read a nutrition label, too.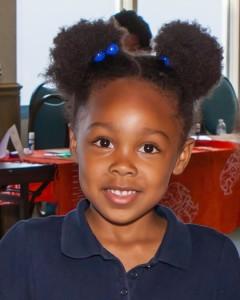 While shopping sometimes Evonne will remind Pear, "remember when you didn't like that food and then you tried it in food literacy class and liked it?" She adds a nod to the program, "They make the food so fun and colorful, the kids want to taste it."
Indeed, good food should be fun! The nonprofit focuses on the positive side of food, sharing practical and affordable ways to eat well, rather than harping on what foods people should avoid. By making healthy food fun, Food Literacy Center inspires children to make the best choices for their bodies – impacting the health of their whole family.
Evonne explains, "We love bean burritos! I used to buy fast food, but Food Literacy Center did an experiment where you make a bean burrito at home with wheat tortillas instead of flour—and whole beans. So we don't eat fast food anymore and it saves us money. My sister buys wheat tortillas now, she's trying to eat healthier, too."
Pear's favorite moment of food literacy has been going to The Kitchen Restaurant and being a mini chef. Food Literacy Center students were invited to serve appetizers, but Pear was so curious and excited to be in a working kitchen that soon she and her classmates were invited on stage to help plate dishes with real chefs!
While her favorite food changes daily, when she grows up, Pear knows she wants to be either a chef or a teacher like her mom. Perhaps she'll choose both and become a food literacy teacher!
Help fund-a-school by making a donation today!
Related Links