Help the Kids Win: Vote for Your Favorite Drawing
Before school lets out for summer, the kids in our food literacy class at Capitol Heights Academy have created some drawings–and we need your help choosing the best one!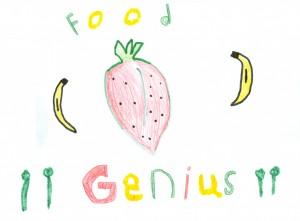 In the fall, when the kids return for school, adults will also begin learning about food literacy through our "Food Genius" class, where we train them to become experts in teaching our curriculum (details coming soon). We asked the children to help us design a logo.
Please vote for your favorite today! We need a winner by 12pm PST today, June 6, 2012. We'll be announcing in class today with our kids. We'll select one overall winner, as well as a runner-up in each of the class groupings (K-1st grades, 2-3rd grades, & 4-5th grades).
Visit our Facebook page to "like" your favorite. The one with the most "likes" by noon today will be deemed our winner! Follow this link: https://www.facebook.com/media/set/?set=a.369727863077104.72733.219440698105822&type=1.
Related Links