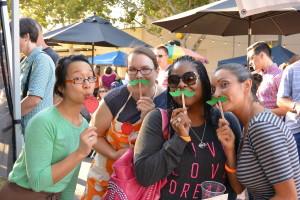 Gather aims to "push the envelope of what Sacramento can be"
Nestled into one small block on the corner of Broadway and 3rd, the California Food Literacy Center booth for the inaugural Oak Park event shook with activity as curious noses traced the wafting smell of popcorn to its source.
Partakers were not simply handed a bag of popcorn and invited to leave—we also informed them that popcorn is 100% unprocessed whole grain, providing healthy fiber that's an essential part of the human diet, and then encouraged them to join in our signature brand of "food fun" with our peapod and strawberry crafts.
Thanks to careful planning on the part of Maritza and Roshaun Davis, co-founders of the event organizing agency known as Unseen Heroes, droves of families, seniors and young people cycled from our booth to others and often back to ours well into the night. Some even stayed to hear the tie-dye-wearing funk rockers, Idea Team, play their infectiously catchy closing song: "Soul Astronaut."
Roshaun, once an MC for the hip hop collective known as Righteous Movement, informed us that organizing Gather as well as GOOD street foot + design market event (the first Sunday of every month in Sacramento's Del Paso neighborhood) has been an even more effective means for him to express his deep-seated desire to get people moving.
"We're trying to get them out of their houses and on the street," he added.
Maritza chimed in that the only "downside" of the event for her was that their food vendors were dangerously close to running out of stock, while their supply of beer and wine ran dry within the first couple hours. Even as we chatted with her, she must have sensed the dozens of thirsty eyes on her because she soon excused herself to send Roshaun on a frantic booze run.
Roping in a small handful of local businesses to support their cause, Martiza and Roshaun met with Oak Park Business Association back in October to get the ball rolling on fulfilling their grand vision—a monthly event made to rival the gregarious block parties of New York City and Los Angeles, devoted to cultivating a spirit of camaraderie centered around Sacramento food and community.
The vendors seemed to feel similarly proud of their locality, as most hailed from Oak Park or another neighboring district of Sacramento.
To give one portrait displaying the caliber of vendors at Gather, there was Joe from Kombucha Kulture, a solely distributing business, who converted his vintage horse trailer into a dazzling blue-white mobile kombucha bar in order to spread the "good news" of probiotics.
We only had a chance to sample the strawberry mint flavor from Lev's, a San Francisco kombucha brewery, but we were thoroughly impressed with its brave confluence of flavors. It had a very distinct and potent tartness, which was then softened by its delicate cool finish—delicious and nutritious!
You can find Kombucha Culture's over 50 unique flavors of kombucha at Nugget Markets, Sacramento Food Co-op and Davis Food Co-op, among others.
On the second Thursday of next month, as well as every month until October, Gather will reopen its gates for another night of food, music and, as Maritza called it, "synergy."
In July, we plan to invite cooks to demo recipes and include more food-related crafts.
Food Literacy Center's program coordinator, Elaine Fok, reflected that "We teach weekly food literacy classes to 130 kids in the Oak Park neighborhood, so Gather is a great way to interact with the community and educate people about what food literacy means and how they can get more involved."
As we tore down our tent and brought our supply boxes back to the cars, we watched as the event site turned from a haven for local foods and goods back into another ordinary street corner in Oak Park.
By Thom Stone, Food Literacy Intern
Related Links