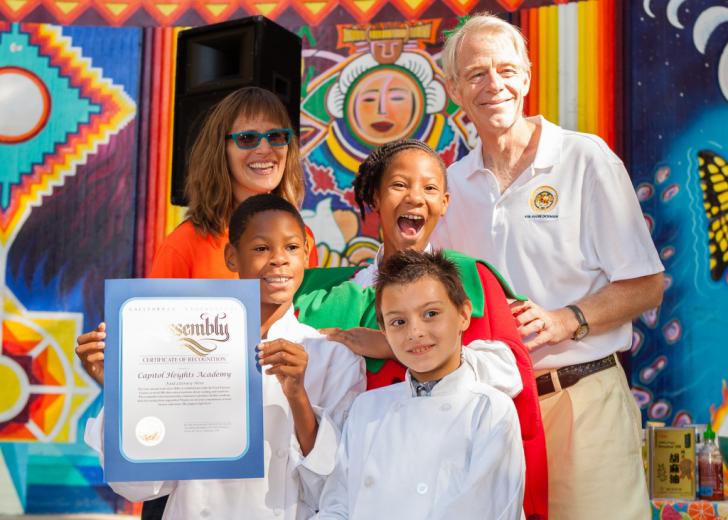 Food Literacy Hero: Capitol Heights Academy
Food Literacy Center is very proud to name Capitol Heights Academy (CHA) as September's Food Literacy Hero!
CHA is an Aspire charter school located in the Sacramento neighborhood of Oak Park and has been a close partner of Food Literacy Center from the very beginning. It was the first school in Sacramento to open its doors to our nonprofit, which was then a two-person, volunteer-run operation. In January 2012, Food Literacy Center started teaching 100 K-5th grade after-school students about cooking and nutrition, and we continue to do so every year thanks to the support of the principal, staff, teachers and parents of CHA.
"Capitol Heights Academy took the first bold step in this region to implement food literacy education in its after-school program," said Amber Stott, founding executive director of Food Literacy Center. "Because of their leadership on this issue, we're now in 3 schools–and expanding."
A former after-school director at CHA, Emilie Beecroft, worked closely with us to develop our food literacy curriculum when we piloted the program and assisted us during food literacy classes. She got to witness the change in the kids after they gained food knowledge.
"I have heard them ask how much fiber is in a certain food! This kind of dialogue from this age group is pretty impressive," said Beecroft. "I think everyone who sits in on a food literacy lesson, whether its students, parents or staff, learns something."
Lisa Daniels, CHA's current after-school director is instrumental in helping us facilitate our activities with the students and has been a supportive food literacy advocate. She sees the excitement in the students when they attend food literacy classes. Since we started the new school year, Daniels said that students who are new to the program have thoroughly enjoyed themselves and the returning students were anticipating the fun they had experienced from previous years.
The goal of Food Literacy Center has always been to teach children how to make healthy choices and create a positive ripple effect on their parents, teachers and the community at large. Thanks to the partnership with CHA, we are seeing how being food literate is impacting not only the students but their families as well.
"They are encouraging their parents to have an open mind to try fruits and vegetables they may not have been familiar with," said Daniels.
Daniels' daughter Alexandra goes to CHA and has been a food literacy student since Kindergarten. After every class, she shares with her mom what she has learned and is now a self-proclaimed "Master Chef" and adventurous eater.
"She saw a dragon fruit and wanted to try it," said Daniels. "Food Literacy Center is doing an amazing job promoting healthy lifestyles to families."
The Food Literacy Hero award is dedicated to CHA's principal, staff, teachers, parents and most of all, our brilliant food literacy students!
"We love working with them–the whole school seems to be committed to improving their kids' health, which makes all the difference to these kids," said Stott.
Story by Heather Teoh
Photo courtesy Suzanne Hambleton of Right Light Images
Related Links