Food Literacy Hero: Assemblymember Roger Dickinson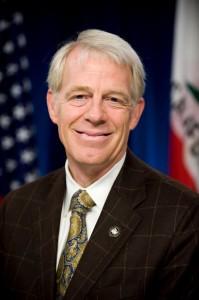 When California Food Literacy Center's founder Amber Stott envisioned a month-long campaign to spread food literacy awareness, she found an ally in Assemblymember Roger Dickinson. The Assemblymember took up the organization's cause with enthusiasm, authoring and helping pass our resolution, ACR 161, declaring September Food Literacy Awareness Month by the California legislature.
"We are grateful for Assemblymember Dickinson's leadership. He saw the importance of improving the health of California children through food literacy education," said Stott. "With his hard work, and the dedication of his team, we were able to see this resolution come to life!"
Dickinson advocates for policies that help improve the lives of individuals and families in California. A champion for the people, Dickinson has focused on issues related to environmental quality, education, health and human services for children and families, and consumer protection. A resolution that promotes food literacy in California, particularly in low-income communities, was a perfect fit with Dickinson's support of education and health and human services.
Studies show that only 25% of Americans eat five servings of fruit and veggies daily, and 38% of children in California are overweight. Creating awareness of food literacy is vital to the health and wellbeing of children and families across California.
Dickinson serves on several key committees, notably, the Assembly Budget Subcommittee #1 on Health and Human Services, the Assembly Natural Resources Committee, and as Chair of the Assembly Select Committee on Delinquency Prevention and Youth Development.
Prior to his election to the Assembly, Dickinson served on the Sacramento County Board of Supervisors. As a board member, Dickinson played key roles on issues such as health care, welfare reform, economic development, clean air, improved transportation, and smart growth. In addition, he participated in numerous community organizations including the Sacramento Housing and Redevelopment Commission, and the Sacramento County Air Pollution Control Advisory Board.
For his leadership and support making Food Literacy Awareness Month a reality, and for prioritizing the health of California children and families, Assemblymember Roger Dickinson is California Food Literacy Center's Food Literacy Hero this month! We are deeply honored by his commitment to this cause!
Dickinson joins California Food Literacy Center and the Oak Park Farmers Market, a program of Neighbor Works, to kick off the celebrations for Food Literacy Awareness Month at a special Food Literacy Fair on Saturday, Sept 22, at the Oak Park Farmers' Market. The fair is from 9 a.m. to 1 p.m. with a press conference beginning at 10:30 a.m. There will be live music, cooking demonstrations, farm stands, kids' scavenger hunt, games, yoga, and many more activities. The event is free and everyone is encouraged to attend!
For more information on Dickinson, visit http://asmdc.org/members/a09/. Visit Food Literacy Fair for more information.
Related Links