Food Literacy Fair 2014 a Cool Carrot Occasion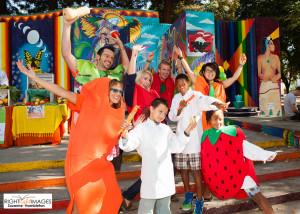 The third annual Food Literacy Fair was a squash smashing success! Food Literacy Center partnered with Assemblymember Roger Dickinson and Southside Park Neighborhood Association to celebrate Food Literacy Month by bringing healthy food and fun to the community. Jalapeno high fives to over 1,000 people who attended!
Tons of tomato thanks to our sponsors Ten22, Firehouse Restaurant, Simply Recipes, Anthem Blue Cross, Sierra Health Foundation and SMUD for making this fruit & vegetable extravaganza bigger and better than last year.
"We're filled with carrot cheer for the support of our sponsors! They understand the value of educating our kids to eat healthy," said Amber Stott, Food Literacy Center executive director.
During a press conference complete with dancing vegetables, we announced the Veggie of the Year, which is….the CARROT!
Students at Capital Heights Academy voted on the Veggie of the Year after taste testing five contenders. At the fair, student chefs helped demo healthy kid friendly recipes with local chefs. Chef Dennis V. Jr. Sydnor from Ten22 made an Asian Carrot Slaw (featuring the Veggie of the Year!), live on air with News 10.
Capital Heights Academy received the Food Literacy Hero Award from Assemblymember Dickinson for being champions of food literacy education since 2012. Capital Heights Academy student Matthew shared one fact that he learned in food literacy class, "that endives grow in the dark", with the crowd. The Certified Farmer's Market and Jillena Hernandez, Food Literacy Center Board President, were also honored as Food Literacy Heroes.
"These community members have demonstrated long-term commitment to improving the health of our kids through food literacy and access to vegetables," said Stott. "They are the real heroes of this work!"
Families enjoyed free healthy samples like endive bites with goat cheese and dried apricots while grooving out to The Hoots. Other fair highlights included a Zumba class from California Family Fitness, free produce from Farm Fresh to You and Fully Belly Farms, a veggie coloring station and corn hole. Thanks to the recycling station provided by GRAS the fair was a zero waste event.
Additional thanks to our sponsors California Endive, Assemblymember Ken Cooley, Save Mart Supermarkets and UC Davis Children's Hospital.
Related Links